Are you unsure about AI in SEO?
Stick with me as we dig deep into this topic.
In this blog, I will offer insights into AI SEO and explore its finer points. To fully understand the concept, it's important to read the entire piece.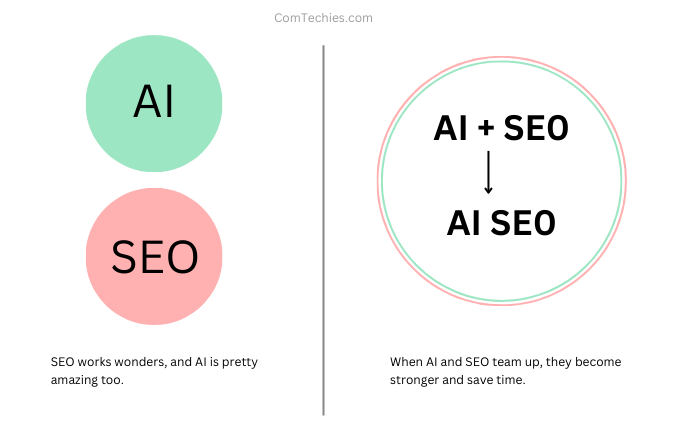 Now, let's begin with.
What Is AI(Artificial Intelligence)?
Artificial Intelligence (AI) is best illustrated with a good example. Let's start with an example of Google Assistant, a prime instance of AI at work.
If you need information, just speak your command, and Google Assistant will promptly furnish you with the precise information you requested.
Indeed, Google Assistant is a shining example of AI, as it consistently delivers accurate responses tailored to your queries.
AI's influence, however, extends far beyond virtual assistants. It plays a pivotal role in healthcare, self-driving cars, and various other fields, including the captivating of SEO.
In essence, AI encompasses machine learning, a technology that empowers humans to streamline their pursuit of various needs.
I trust this clarifies your understanding of AI.
What Is SEO?
I hope everyone is familiar with SEO, but there might be some who aren't.
For those individuals, I'd like to explain what SEO is…
SEO(Search Engine Optimization) is the process of enhancing both the quality and quantity of website traffic to a specific webpage or website through search engines.
SEO primarily targets organic traffic, as opposed to paid or direct traffic.
In simple terms, if you were to search for something on Google, let's say, "What is AI SEO?".
In a fraction of a second, the Search Engine Results Page (SERP) will display relevant and high-quality content for your reference, based on your search.
What Do You Mean By AI In SEO?
My friend, the moment you've been waiting for is about to unfold.
I've already discussed SEO with you, and now I want to introduce the concept of AI SEO.
AI SEO represents a significant advancement beyond traditional SEO. It serves as an advanced tool to enhance your efficiency and analytical capabilities.
Utilizing AI SEO brings a multitude of benefits, including accuracy, adaptability, and overall effectiveness for your website.
This innovative AI-driven approach enables rapid analysis of extensive data, search queries, and website metrics, providing you with a competitive edge in your SEO efforts.
If search engines update their algorithms, AI can easily adapt to these changes and contribute to improving your website's ranking.
In simple terms, not using AI in your SEO, could lead to your growth slowing down over time.
So, if you want to do better and keep up with the latest trends and technologies, try AI in your SEO efforts.
It's the future, and it can boost your rankings and growth.
Benefits Of Using AI In SEO
In this section, I would like to provide insight into four crucial benefits related to the above topic.
1. Efficiency
AI can perform significantly better and faster than humans, so it's an advantage for effective time management for humans.
2. Accuracy
AI can furnish you with huge accurate data and help to improve your website. It also offers insights into which areas of your website require improvements.
3. Personalization
AI assists in tracking visitor behavior and, based on this information, provides a personalized experience to visitors.
For instance, imagine a blog reader who is currently exploring your article on "Best Cloud Hosting in India."
In this scenario, the AI will recommend another blog that is relevant to the topic of cloud hosting to the visitor.
4. Future-proofing
Search engines can update their algorithms at any time, making it challenging to adapt to traditional SEO practices.
However, AI possesses the capability to adapt to these changes, ultimately enhancing your website and boosting your rankings.
Best AI SEO Tools For Keyword Research
Here, I will list the best AI tools for keyword research for your quick reference.
I recommend the latest AI tool to do keyword research,
This tool will provide you with current keywords and more.
AI For Content Optimization
Can, AI optimize the content?
Yes, it is indeed possible!
It can analyze your content and assess your top-ranking competitors to enhance optimization.
For instance, I'm presently utilizing an AI tool for content optimization called Frase.io.
This tool offers numerous features such as competitor analysis, topic scoring, keyword analysis, outlining, and research on related topics, among others.
AI can effectively optimize your content to align with your specific requirements.
Furthermore, AI can evaluate and identify well-performing content that attracts users and it will create meta tags and descriptions automatically for search engines.

AI For Analyzing Website Performance
In website traffic analysis, AI can inform you about the sources of your visitors, the keywords they use to discover your site, and even forecast future traffic trends.
Now talk about user behavior,
An AI tool can assist you in various ways, such as identifying user intent, determining how users are accessing your site, and pinpointing where users are exiting the site.
This helps you enhance and effectively maintain your website.
Page speed is crucial for our website and mobile-friendliness. AI can help enhance your page speed by analyzing the site, such as compressing images, for instance.
AI can also perform a website audit and present the issues to you in a clear manner.
Cost Of AI SEO Tools
I list down the cost of some latest AI tools. check it out…
Possible Mistakes Made By AI
AI has its pros and cons. In this discussion, I will focus on potential errors that AI might make.
While I'm not entirely certain, these errors exist within the scope of possibility.
Data Lag, AI can provide you with the data it has been trained on. However, there may be instances when the most up-to-date data is unavailable, and it could potentially offer outdated information.
Cost, While some AI-powered SEO tools can be expensive, these tools may not always deliver the expected performance, which can be disappointing.
In terms of adaptability, AI is faster compared to traditional methods. However, AI is still facing challenges when it comes to keeping up with search engine updates and algorithms.
AI has limited creativity as it can only analyze and improve upon provided data. This may result in a lack of problem-solving and creative content.
I hope you have gained some insights from the points I mentioned.
Steps for Incorporating AI Into Your SEO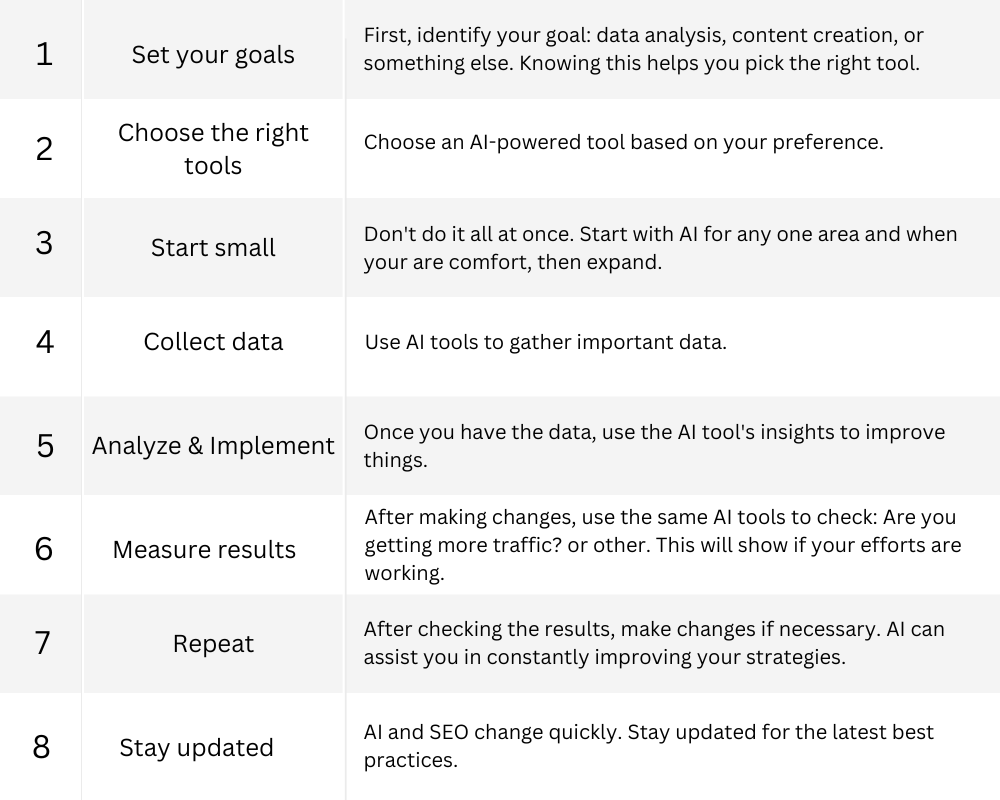 Conclusion
I have come to the conclusion that AI is evolving everywhere, including in SEO. AI makes SEO faster than manual human efforts.
We don't want to waste our time analyzing websites and keywords; this will be handled by AI using the provided data to enhance our efficiency.
Additionally, it will incorporate the latest updates into the search engine, ensuring that your website remains current.
Finally, it will enhance visitor engagement, as AI is increasingly becoming a crucial component of SEO.
Have any doubts? comment below!
I will efficiently clear your doubts…!