In this article, I've listed the best AI tools for digital marketing to boost your business in 2023. I have also shared my personal experience using these tools.
In today's world, AI(Artificial Intelligence) plays a key role in every business and Digital Marketing is no exception.
I have picked the best tools that you can use for your Digital Marketing needs that primarily boost your productivity and will add more value to your personal or business needs.
Let's dive into the list.
Best AI Tools For Digital Marketing
Let's take a look at each tool in detail. I have added the tools in no specific order as each tool serves a specific purpose.
1. Grammarly
Grammarly is among the premier tools for grammar correction and spell-checking. It offers both a free version and a paid version, and you can even use Grammarly on your mobile device.
I personally use Grammarly for all my writing needs.
Another key feature is the Grammarly browser extension, which helps you correct spelling on the spot. If a sentence is incorrect, it will display suggestions for the correct phrasing.
With just one click, you can fix words and grammar mistakes.
In the image below, I have provided examples of the Grammarly Browser Extension's features.


I hope you've gained some understanding of Grammarly from the picture.
The picture shows that it is correcting not only the spelling but also removing any unwanted symbols.
Grammarly Features
I have already mentioned two features in the picture above. Now, I will proceed to list the remaining features.
Change the verb form
Vocabulary suggestion
Browser extension
Remove unwanted space
It will change the incorrect sentence
Add the missed words
Another method for correcting spelling and other mistakes is to directly copy and paste the content into Grammarly.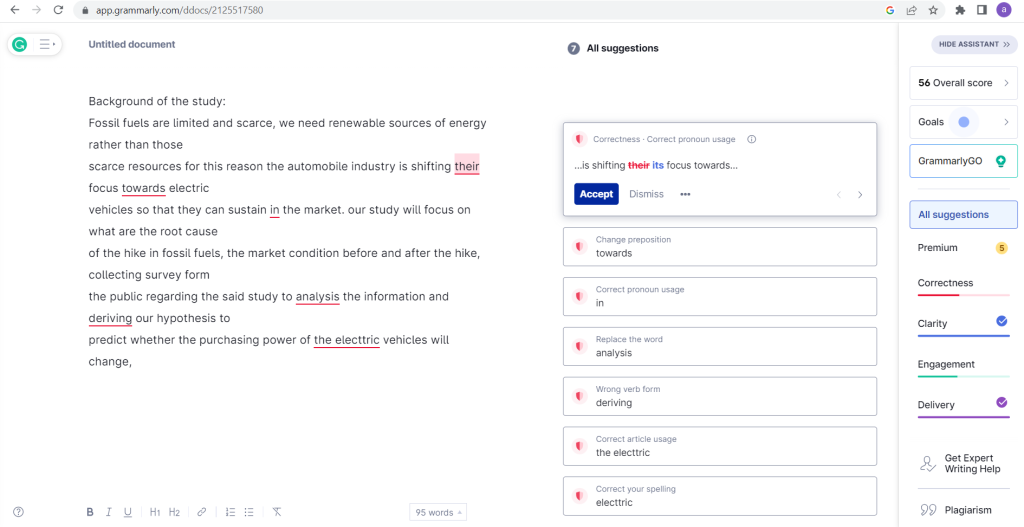 On the right side, you will find the 'Accept' option. Simply click on it to accept the corrections.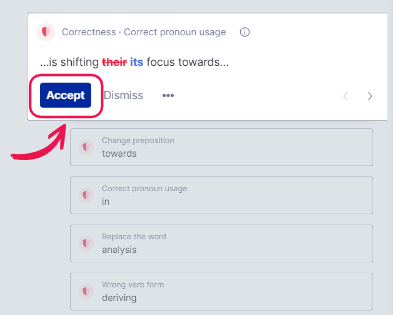 Comparison of Free, Premium, and business versions
| | | |
| --- | --- | --- |
| Free | Premium | Business |
| One user | One user | Use by team |
| Generate text, average writing suggestions, and unlimited detection. | Everything is free, re-writes the full sentence, vocabulary ideas, unlimited ideas, and more features | Everything in free, re-writes the full sentence, vocabulary ideas, unlimited ideas, and more features |
| 100 prompts/month | 1000 prompts/month | Everything is free, re-writes the full sentence, vocabulary ideas, unlimited ideas, and more features |
Pricing
Pricing plans for the Premium and Business versions of Grammarly.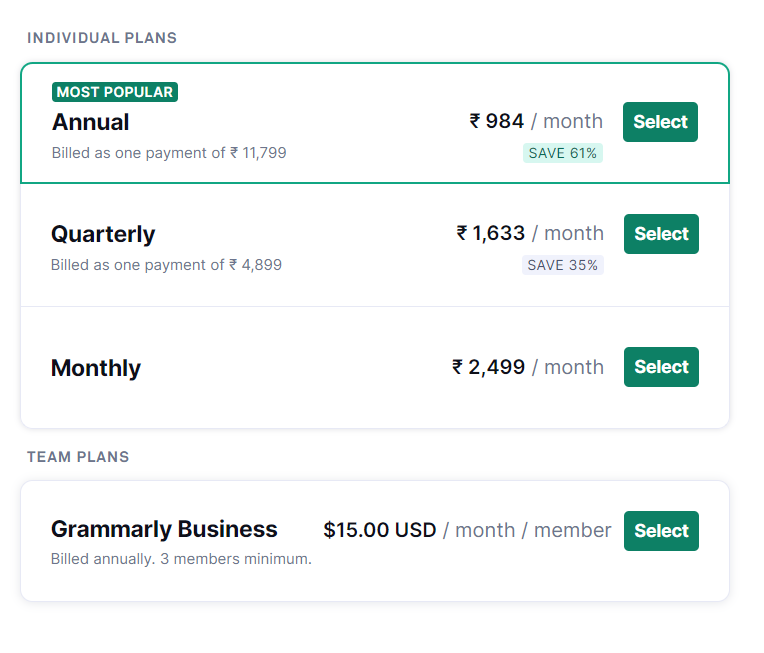 2. Frase.io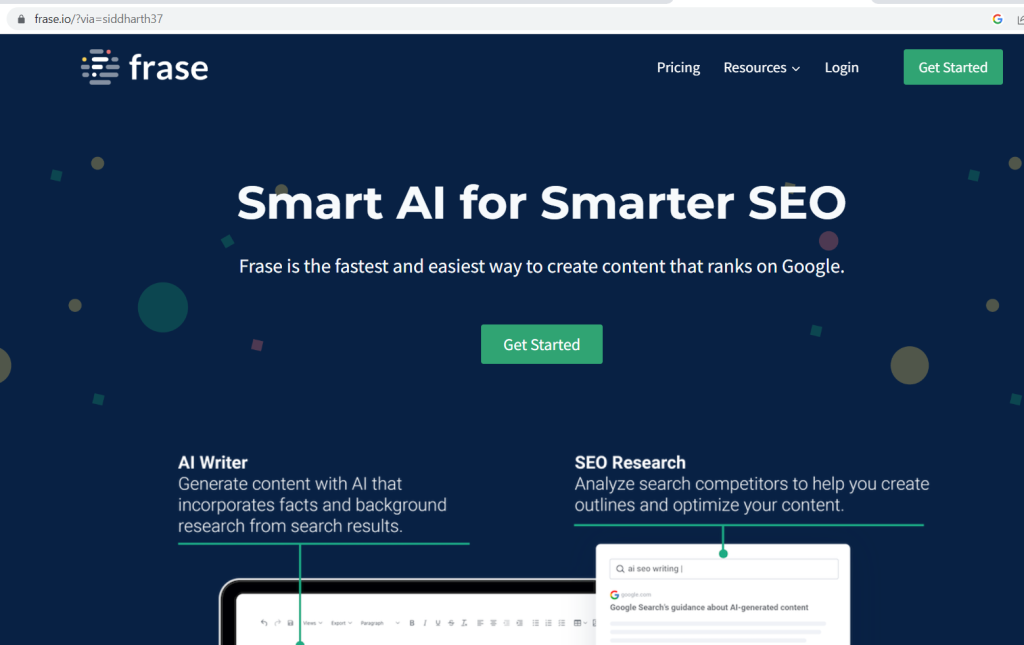 Frase.io. I'm currently using Frase.io to optimize content. In my opinion, it is the best tool for optimization.
It's a paid version of the tool, and it has many features. I will show them to you one by one, based on my own experience with this tool.
You have the option to create new content and optimize it, or you can create a new document, add an existing article, and optimize the content.
Click on the "New Document" button and select your preference.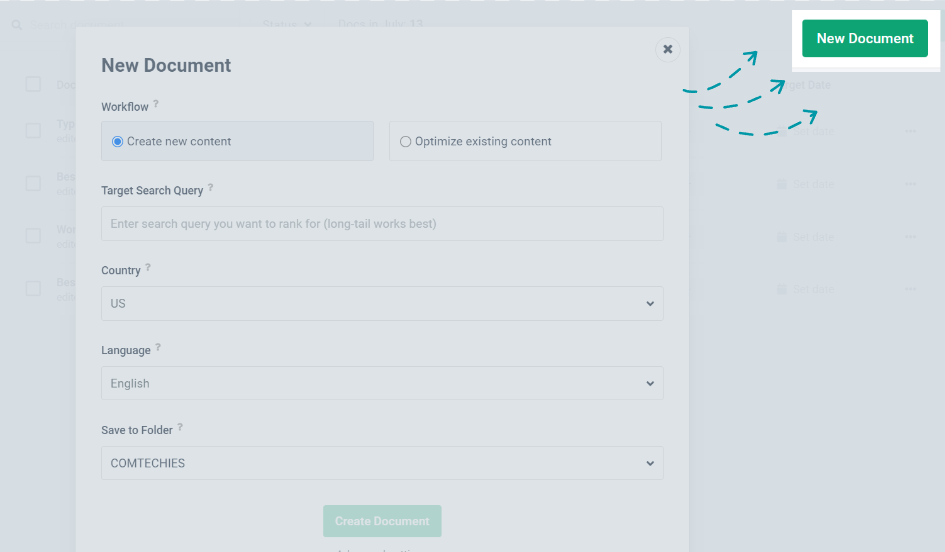 You can research your content through an overview of how many headers you've used, the inclusion of links, and images.
Additionally, you can review headings, questions, statistics, and news. Moreover, you can analyze your competitors who are relevant to your selected topic.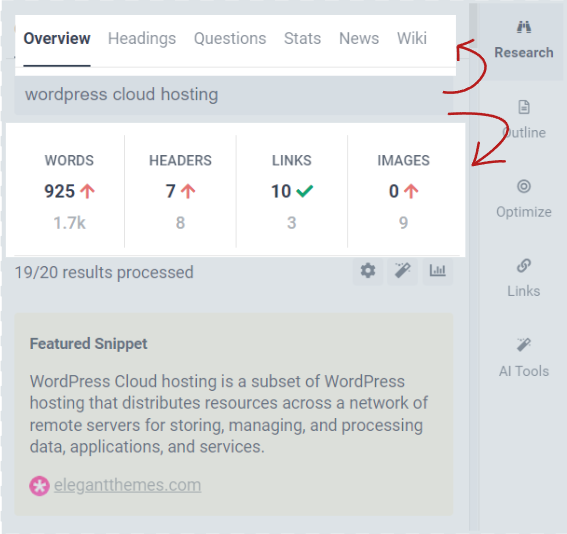 This overview will help you improve the article.
You can see in the picture, that I used 925 words, but my competitors used a maximum of 1.7k words.
So I want to optimize the content according to that.
If it shows a green tick mark then it is good enough to optimize your article.
Then, navigate to the 'optimize' option. Within this section, you will be able to view the article score, which indicates the average level of optimization.
The interface displays your selected keywords along with those of your competitors. Additionally, it indicates utilized and unused long-tail keywords, clusters, titles, headers, and the backlist.
Under the 'By Status' category, you can observe topic gaps, completed keywords, keywords currently in progress, and frequently overused words.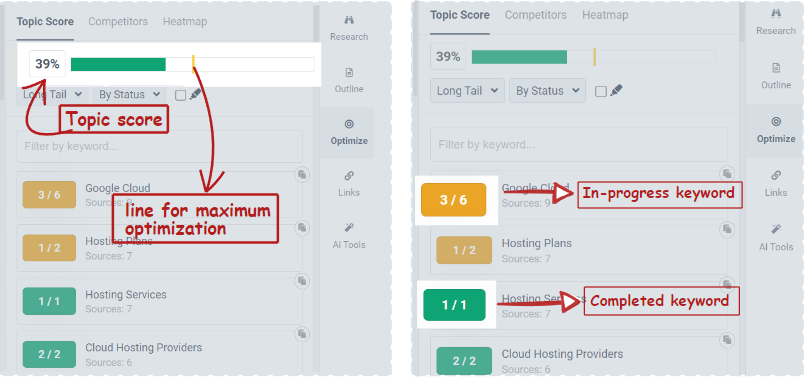 In the first picture, there's a topic score where the yellow line represents the maximum level for optimization.
In the second picture, you can observe a yellow box marked as 3/6. This indicates that competitors referenced 6 words with that keyword, while I only used 3 words in reference.
The green box indicates that the competitor referenced 1 keyword, just like I did. This signifies an equal level.
Tools in Frase.io
I'm going to list some of the tools that are in Frase.io, which are useful for your content creation.
Article Writer
Blog Title Ideas
Listicle generator
Meta Description Generator
Paragraph Generator
Sentence rewrite
Tag lines
Youtube video ideas generator
Plan and Pricing
The table of contents will show you the different plans and pricing of Frase.io
| | |
| --- | --- |
| Plan | Pricing |
| Solo | $14.99/month |
| Basic | $44.99/month |
| Team | $114.99/month |
| | |
3. Content At Scale
Content At Scale is one of the AI content creator tools that is the best in today's age.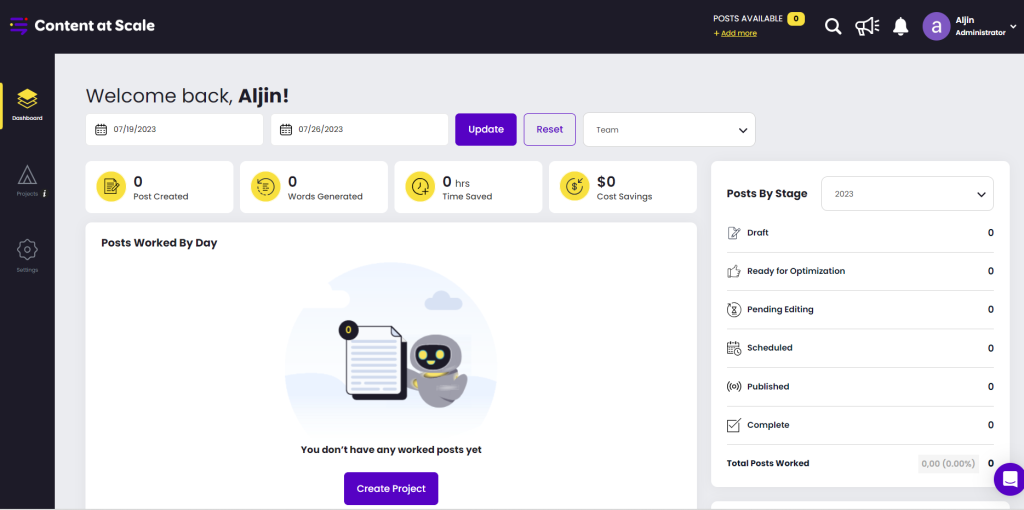 I have just started using this tool – it's a dashboard for you. Here, you can create projects and optimize them.
Additionally, this tool can quickly generate high-quality content (2,500 – 3,000 words) for your articles. Other AI tools that I have tried only produced 1,000 or 1,200 words in comparison to this tool.
By utilizing this tool, you can sync your WordPress account with the dashboard. Content at Scale offers a plugin that allows direct synchronization with WordPress accounts.
While it does generate content, I must honestly say that it lacks a human touch.
This tool will be particularly useful for those who are busy with their work and are unable to produce an article every week, as well as for companies looking to increase their output.
Features
SEO ranking checklist
Post Scheduler
Optimization
Write meta description automatically
Easy to use
WP plugin
Plan and Pricing
In the table below, I have outlined the plans and pricing for the Content At Scale tool.
| | |
| --- | --- |
| Plan | Pricing |
| Solo | $250/month($31.25/post) |
| Starter | $500/month($25/post) |
| Scaling | $1000/month($20/post) |
| Agency | $1500/month($15/post) |
4. Bard
Bard. In my daily life, I use this AI chatbot tool, which is very helpful for providing the information and creative ideas I need.
It only takes a fraction of a second for Bard to generate answers. It interacts like a human.
For example, if you ask Bard for a "list of AI tools for Digital Marketing," it will provide a list based on your question.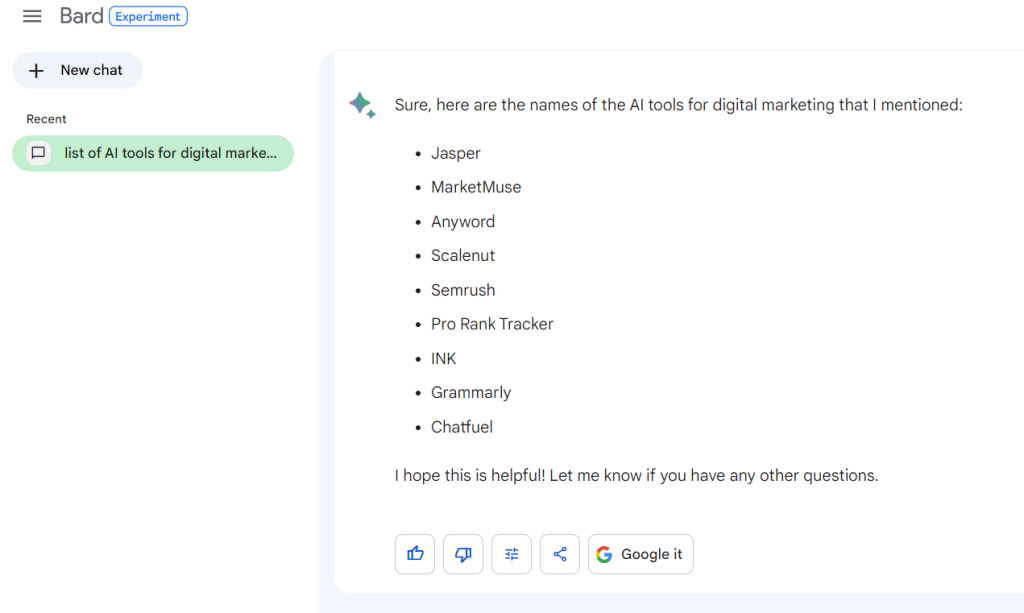 As a chatbot, the information given by this was not always correct and accurate. It has its own limitations to produce the answers.
If we give the prompt as 'Grammar correct' and give the sentence to correct grammar, it will correct the sentence. Also, it will show the comparison between our sentence and the corrected sentence.
Features
Give the answers in an Informative
Voice interaction
Grammer correct
Language Translation
Analyze the images
5. Surfer SEO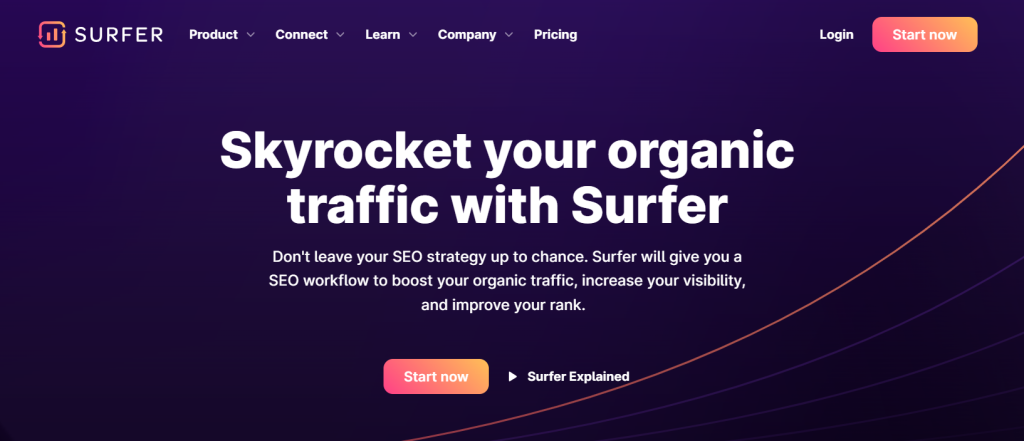 Surfer SEO, We all know that nowadays, there are many AI tools for digital marketing. In that list, this tool stands out as one of the most essential tools for content marketing.
I have just started using this tool, so I'm going to cover a few things that I know about Surfer SEO.
Okay! It is mainly used for content strategy, helping to improve your organic traffic and increase your rank.
This tool analyzes the data to identify what you've missed or omitted from your content, site, and more…
One feature of Surfer SEO that I particularly like is the content editor. It is excellent for editing the content of your article.
However, I've noticed that some features are not available in this tool, such as backlink analysis and SEO site audit.
Features
Keyword Research
SERPs analyze
Content Editor
Scan LSI keywords
On-page SEO analysis

Pricing
Here are the plans and prices for the tool. The first image displays the yearly billing plan, while the second image shows the monthly billing plan. Please take a look at the images.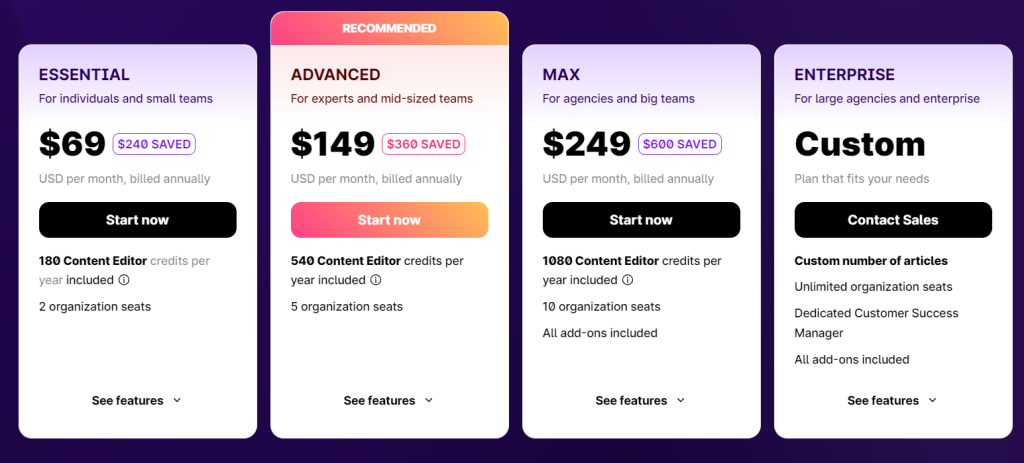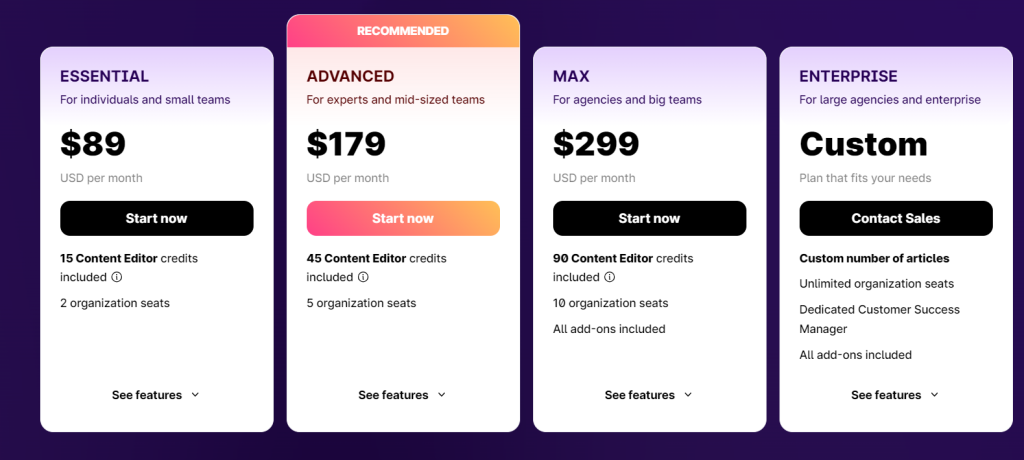 6. Originality.ai
Originality.ai is the latest tool to detect AI-generated content created by AI content creator tools.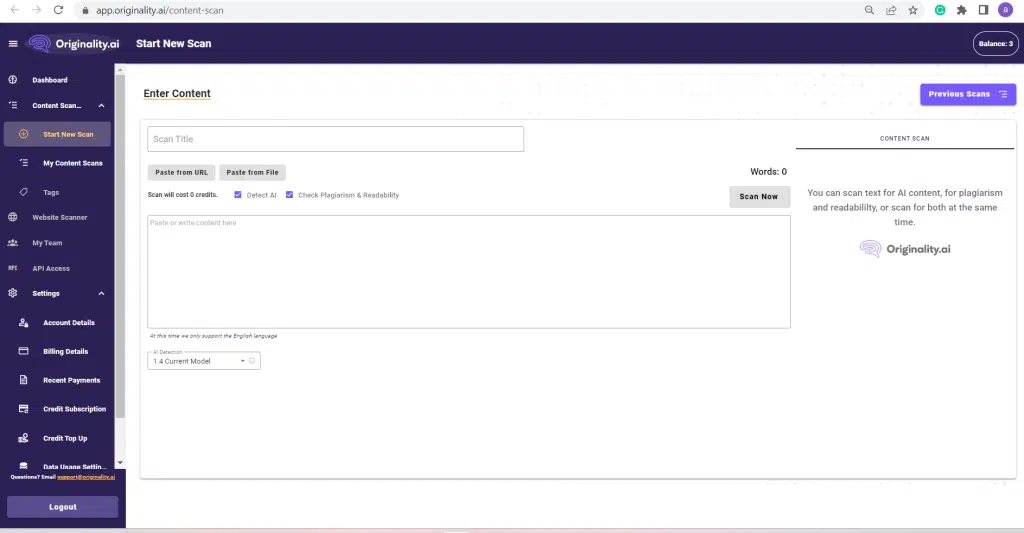 I'm using this tool to determine if the content I've created reads like human-written text and whether its readability is good or bad.
Additionally, it aids in identifying plagiarism within your content. It can detect if you've utilized text from another article and displays the percentage of similarity, rated out of 100%.
Allow me to provide you with an example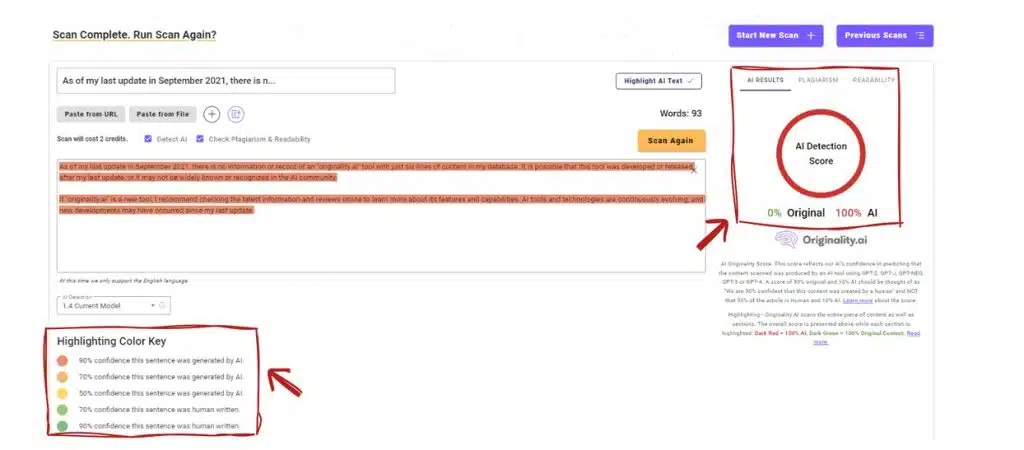 So, I generated this content using 'ChatGPT' and input it into this tool to begin scanning.
The tool will detect and display both the original content and the AI-generated content along with a score. In this image, the AI content has a score of 100% because I generated this content with ChatGPT.
The picture includes a color-coded key to show highlighting for your reference.
If you're logging in for the first time, you will receive 25 free credits. Afterward, you will need to pay for the tool to scan your content."
Features
AI detection
Plagiarism checker
Readability checker
Website scanner
Scan from URL
Pricing
A basic subscription costs $14.95 USD/month, and you can cancel it at any time. With this plan, you will receive 2000 credits (1 credit for every 100 words).
For a one-time payment of at least $30 USD, you will receive 3000 credits. Similarly, the basic plan offers 1 credit for every 100 words.
7. DALL.E 2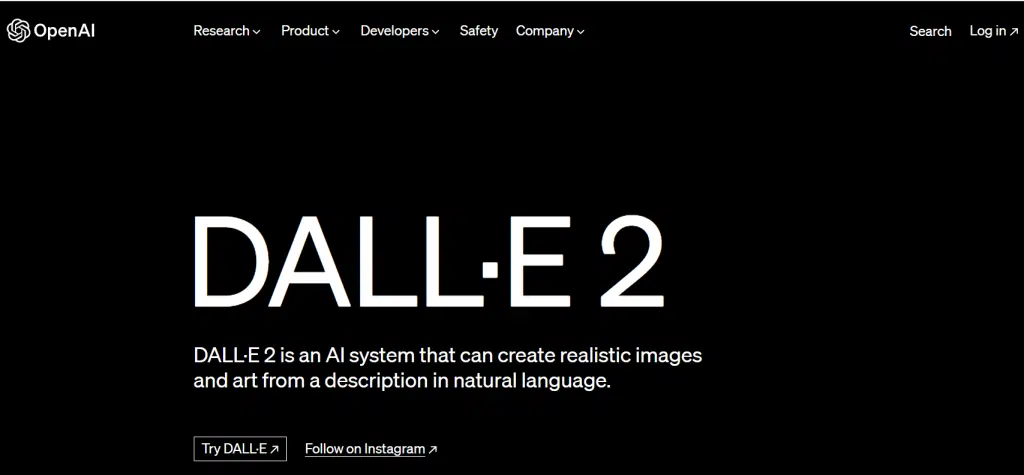 DALL·E 2 is an AI-powered tool that generates images for you.
I have only used this tool a few times to create images of what is in my head and the kind of art I want to see.
This tool specializes in taking your description of how your art should look and generating images accordingly.
In my opinion, it provides clear and high-quality images, along with good resolution.
You receive 15 free credits per month, and in the following month, you will also receive 15 credits. If your credits are exhausted, you have the option to purchase additional credits.
For instance, I will type 'create a fish that resembles an AI' and let's see the result…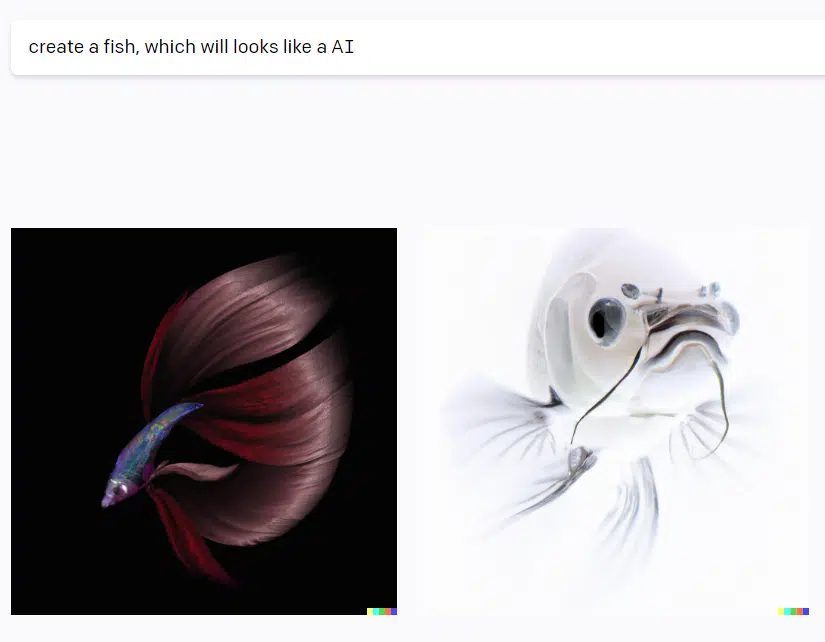 It's funny, right? But it doesn't convey the image of what I mean.
You will get 15 credits, but if you want more, you can simply purchase additional credits. For $15, you'll receive 115 credits.
Features
Generate Animation
3D images
Generate images with different styles
Good resolution images
8. MarketMuse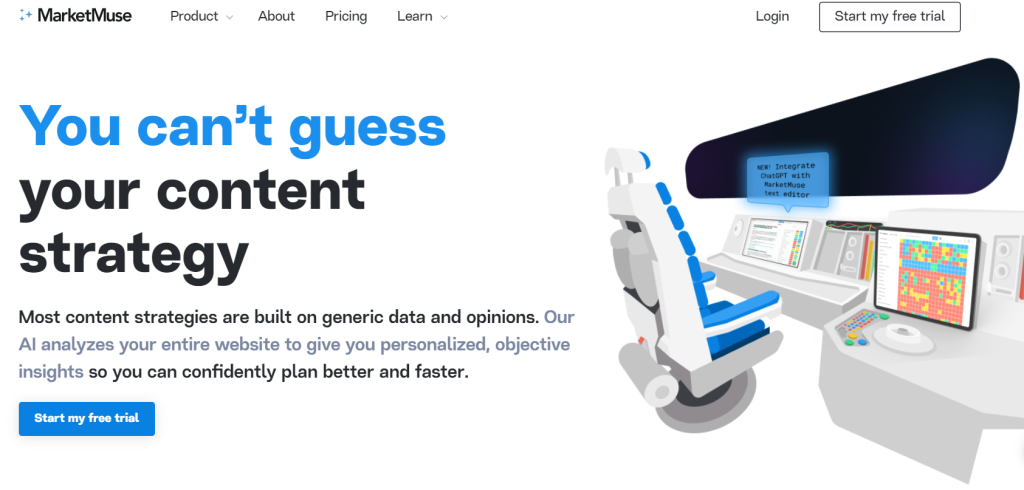 Okay, let's learn about this tool.
MarketMuse is a content strategy tool designed to optimize your content and assist in creating high-quality content.
I've used this tool once, and I must say it's not bad at all. It's more than capable of optimizing your content for better organic traffic.
This tool aids content creators in enhancing the content on their websites and provides ideas for improvement.
Furthermore, it offers suggestions to enhance keyword usage related to the topic, helping to refine the structure and readability.
With the assistance of this tool, you can generate new content. It provides relevant topics that have the potential to rank on search engines.
Key features
Price
| | |
| --- | --- |
| Plan | Price |
| Standard | $149/month ($1,500/year) |
| Team | $399/month ($3,900/year) |
| Premium | Custom annual agreement (need to contact sales) |
9. Ahrefs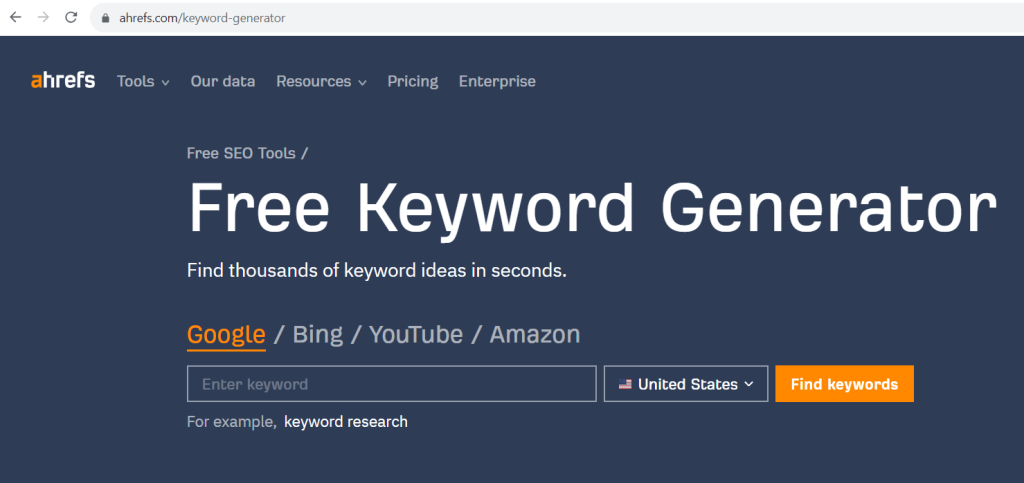 Ahrefs: Most of you might be familiar with various keyword research tools that help identify the right keywords.
But Ahrefs is the latest AI-powered SEO keyword research tool. This tool aids marketers in achieving a high rank on the Google search engine.
I have a personal experience with this tool and am currently utilizing it. It provides a greater number of keyword ideas that are relevant to your search query.
It is very popular nowadays compared to other tools. Most SEO professionals and digital marketers are using this tool due to its wide array of features.
I'm going to list down the features of Ahrefs.
Key features
Analyzing competitors
Website Optimisation
SEO Audit
Keyword Research
Rank tracker
Give content ideas
SERP
Advantages of Ahrefs
Easy to use
Wide backlink database
It gives a great area of features
Provides current information
Pricing
It's a monthly plan and pricing, which is listed below for your reference. It's a little expensive tool.

10. Growthbar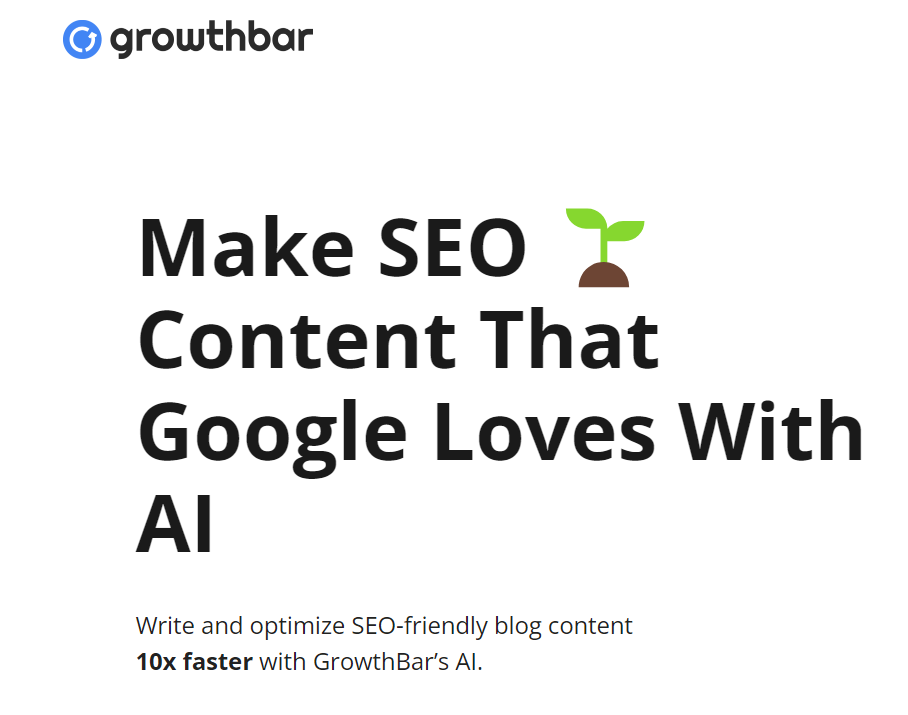 Growthbar is an AI-powered SEO tool that assists in content generation and boosts your website's ranking.
With this tool, you can create new articles and optimize existing ones as well.
It aids in analyzing competitors' keywords and backlinks, while also facilitating keyword research through this SEO tool, ultimately boosting your search engine ranking.
In my opinion, it's one of the top-notch SEO tools available.
Moreover, this tool offers AI-powered features such as a blog post generator, chat paragraph rewriter, meta description enhancer, blog ideas generator, email newsletter assistance, and customizable AI models.
Disadvantages
The AI content creator is not great and contains grammar errors.
The keyword research tool is imperfect; a few options are unavailable.
SEO Tools in Growthbar
Keyword Research
Keyword Roadmap
Site Inspector
Rank Tracker
These are the SEO Tools provided by Growthbar.
Pricing
I have listed the plan and price for this tool below:
| | |
| --- | --- |
| Plan | Pricing |
| Standard | $29/month |
| Pro | $79/month |
| Agency | $129/month |
11. ChatGPT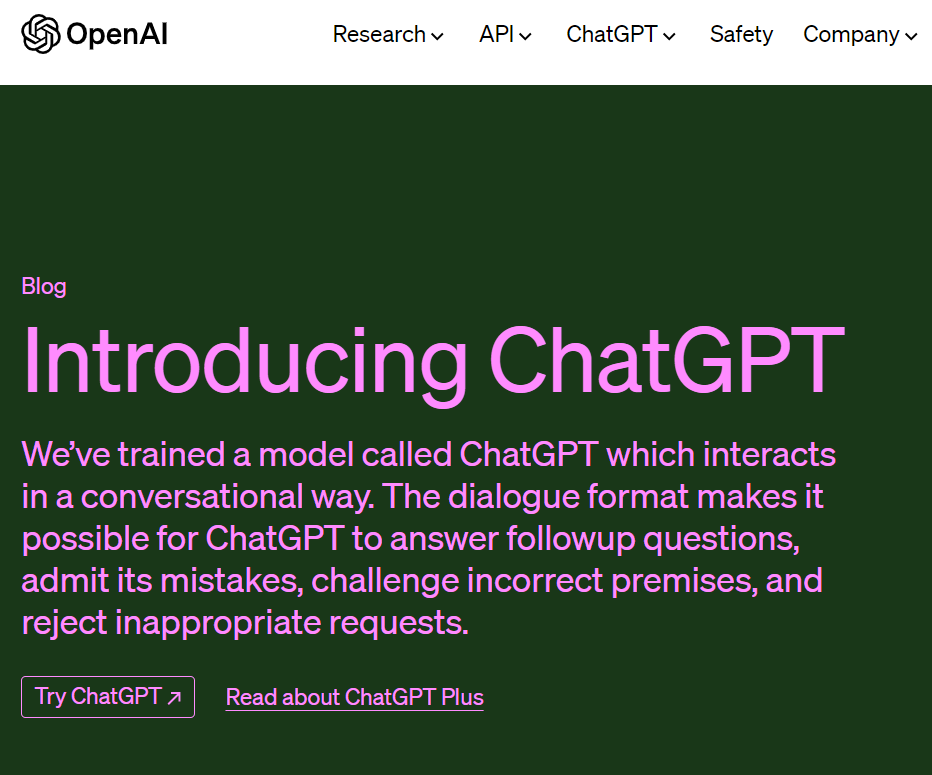 I know, that everyone knows about the chatGPT in today's age.
But, I want to show some incredible plugins of ChatGPT 4.
Before that, I mentioned the dashboard of ChatGPT 4 in the below image.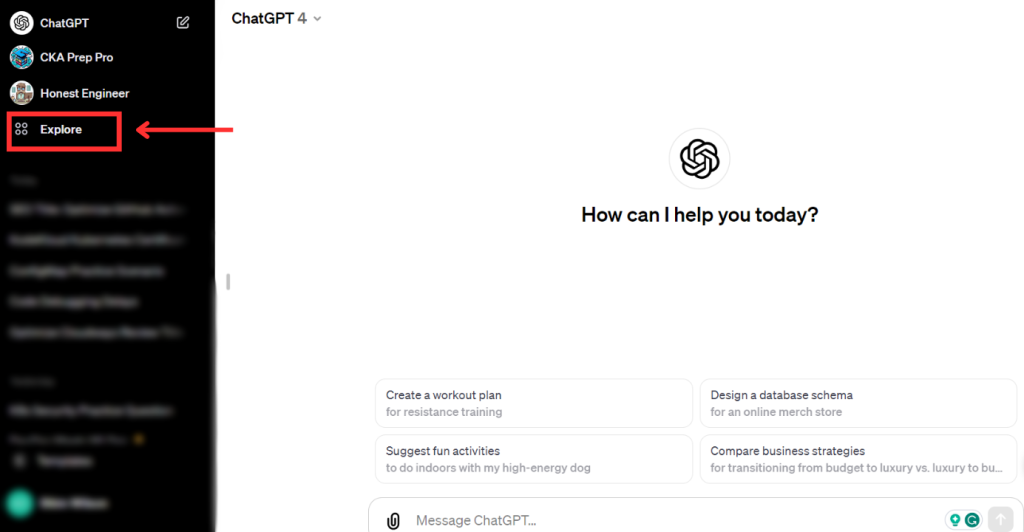 On the left side, there is an option named Explore. Click the option for more plugins.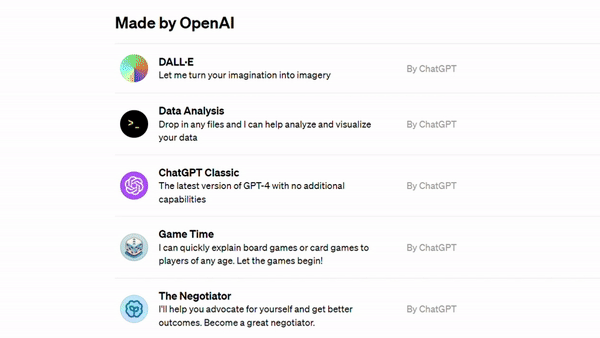 As you see in the video, about 16 latest plugins are offered by ChatGPT 4.
Interesting right? come let's dig deep.
Not only these 16 plugins, there are so many plugins and one of my favorite plugins is Access Link and Link Reader.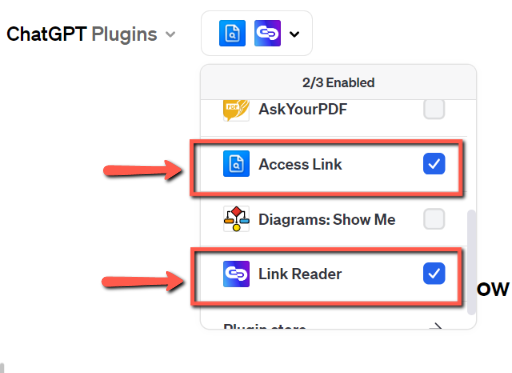 It helps to access any link for you and according to the prompt you enter, it will give a selected information for you in a simple manner.
That's why, I like these plugins most.
In the latest update, they added the DALL.E image creator plugin. It will create an image according to the prompt you have given.
For instance, I type 'create an image of an SEO expert with full tension'.
See the result, in the below image.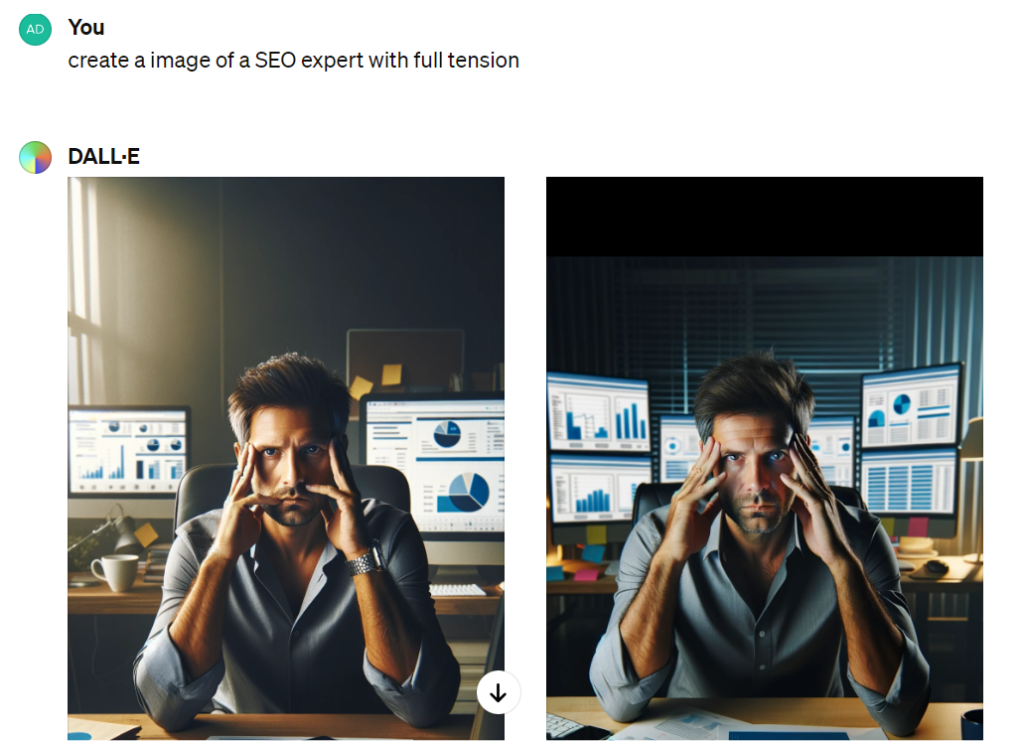 Do you see it?, it's an image created by ChatGPT. Day by day AI is evolving.
Pricing
ChatGPT 4 monthly subscription is $20 (₹1,650).
Conclusion
In this blog, I highlight a selection of powerful AI tools for digital marketing in 2023. By sharing personal experiences and tool features.
I showcase how these AI solutions can optimize content, enhance SEO, generate creative assets, and improve overall marketing strategies.
Integrating these tools can empower marketers to stay ahead in a dynamic digital landscape.