Looking for RankAtom Review? We got you covered with this in-depth analysis of the tools combined with our experience with the tool.
Every SEO professional and digital marketer knows about keyword research tools.
In this review, I'm going to talk about a new SEO keyword research tool called RankAtom.
I've been using Rankatom for quite some time now and I'm going to share my experiences with it.
Brief Overview Of RankAtom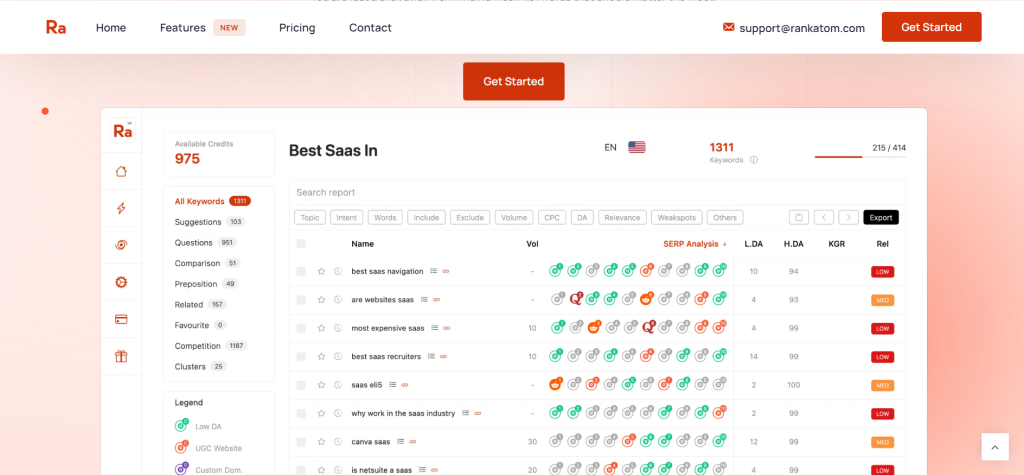 RankAtom is one of the newest SEO keyword research tools, and it's a SaaS product. This tool gives you daily keywords based on your search query.
You can also keep an eye on how well your targeted keywords are doing.
Using this tool, you can discover long-tail keywords, understand search intent, and more.
Features Of RankAtom
I'm going to show you the features one by one, using pictures and brief explanations.
First up is the dashboard of the tool. Here you can see your credits, how much you've used, and the balance of your credits.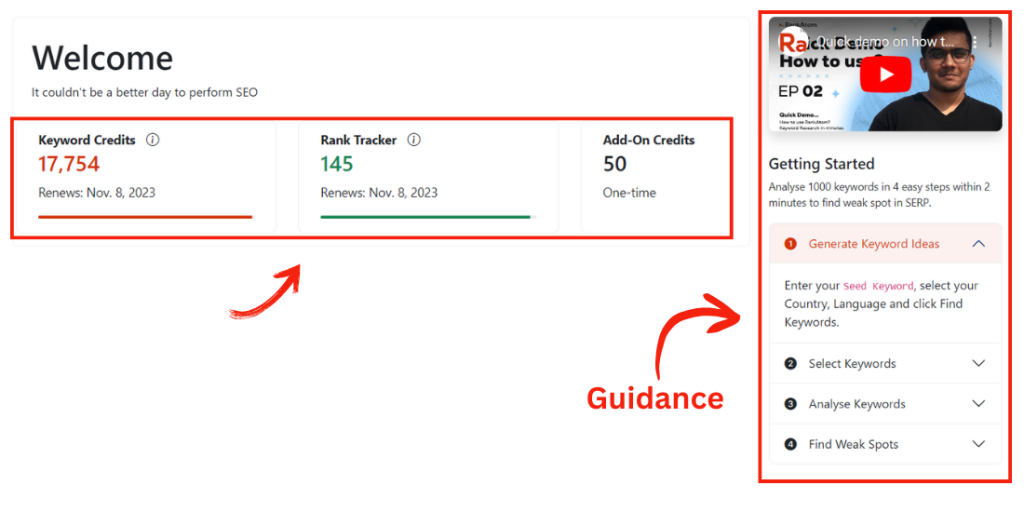 On the right side, there's a tutorial to help you better understand this tool.
The options on the left side of the image below are for keyword research, rank tracking, BERT analysis, settings, billing, and redeeming your code.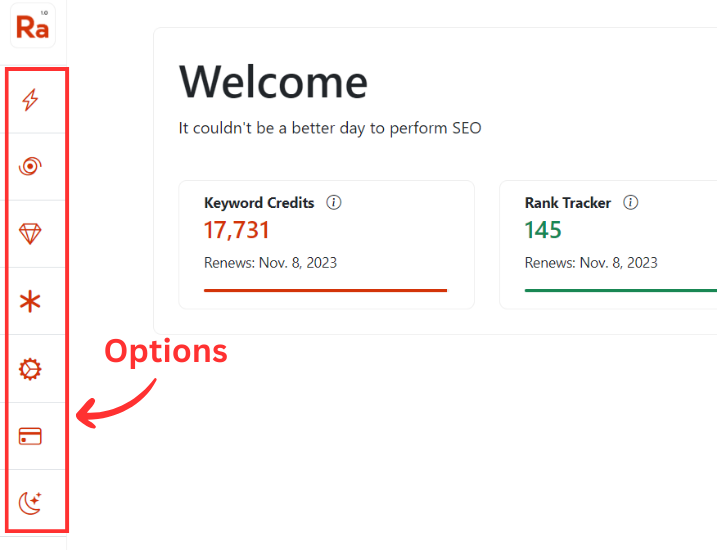 Let me explain the features…
Keyword Research
Enter your seed keyword and click on find keywords for more keywords.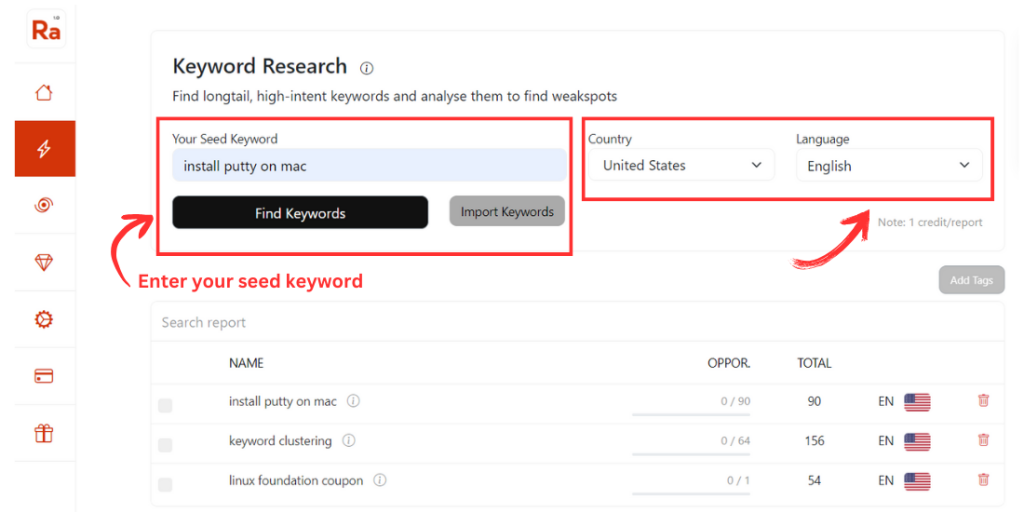 Also, you can choose the country and language for your article, which is very convenient.
In the image, you'll see a sub-heading labeled "Search Report." Your keywords will appear under it.
Look at the below picture, it provides me with 179 keywords for my search query.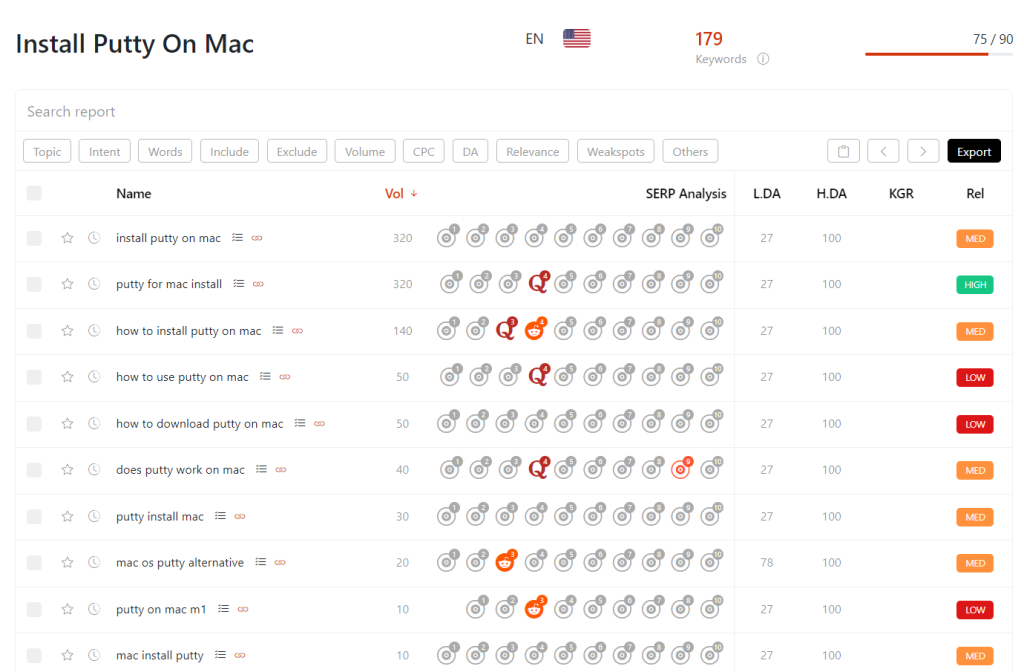 In the keyword research, you will also get, suggestions, questions, comparisons, prepositions, related keywords, favorites, and competition keywords, and also it generate keyword clusters.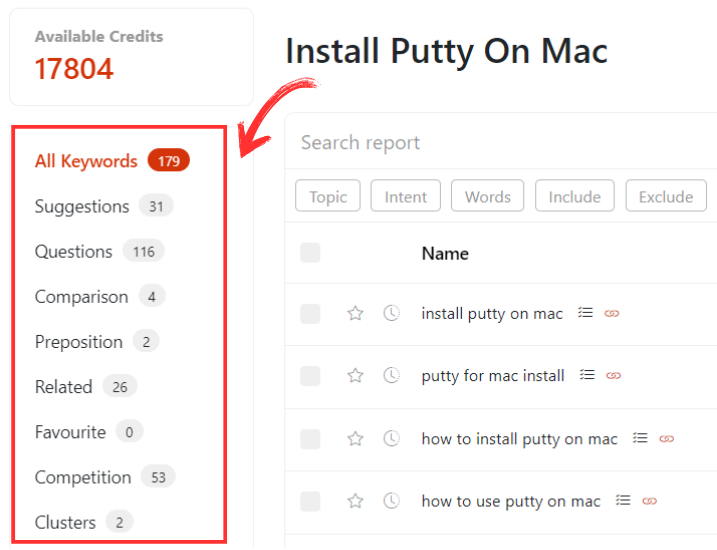 Also, you can adjust the generated keywords based on your preference, like the topic, intent, volume, cost-per-click (CPC), domain authority (DA), and others.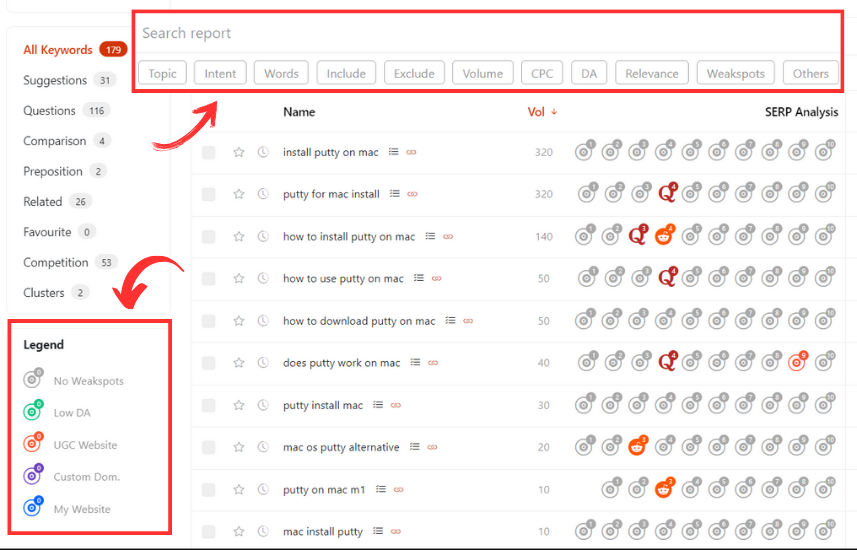 I hope you noticed the subheading called "Legend" in the above picture.
It shows five colors, what each color means, and what they indicate. I have mentioned it in the above picture itself, have a look at it.
It will show, no weak spots, low domain authority (DA), user-generated content websites (UGC), custom domain, and your website. A different color indicates each one.
Also, you can export the keywords and their details.
Note: (1 credit/report)
Rank Tracker
Enter your tracking keyword and your domain, then click on "Track Keywords."
Choose whether you want to see the keyword's SERP daily, weekly, or monthly.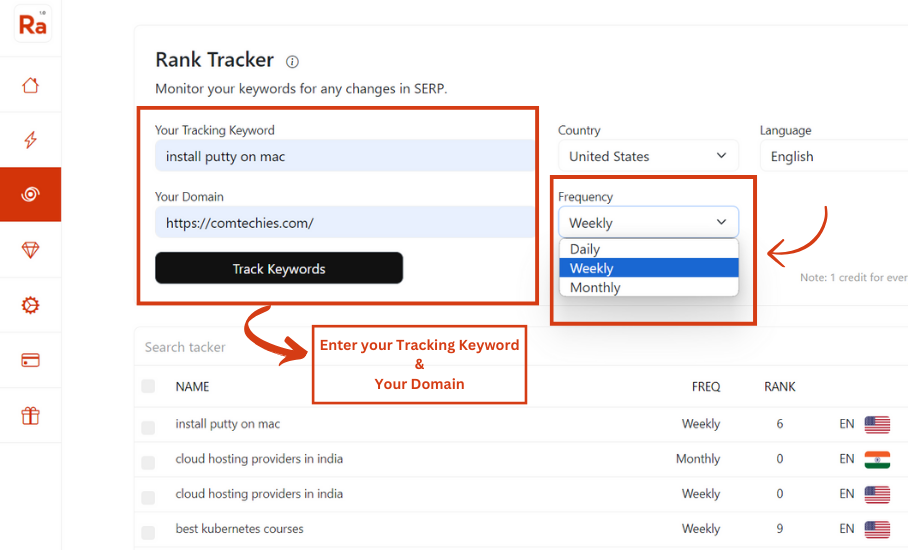 The result is shown in the picture below.
This picture shows that I entered a keyword, which ranks in 6th place on the search engine results page(SERP).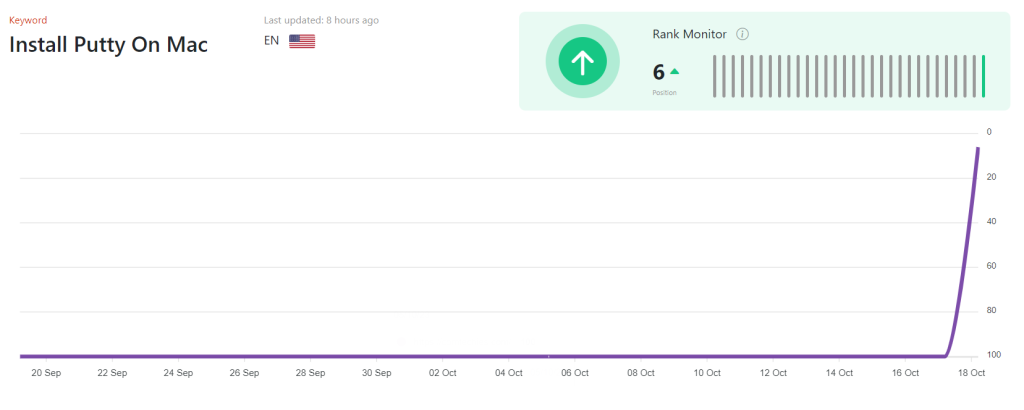 It shows your competitors. The SERP will display the top 100 results based on your targeted keyword and indicate if you are in the top 100.
Rank Tracker helps you identify the position of your targeted keyword on the search engine results page (SERP).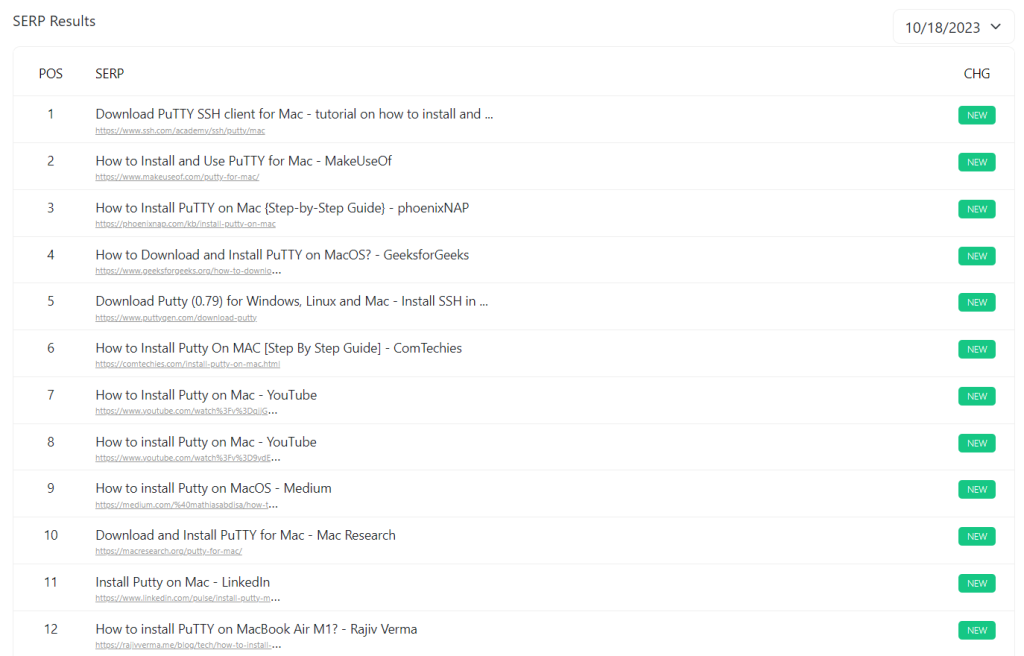 If your targeted keyword is not ranked in the top 100, the rank tracker from RankAtom won't show it in the results.
Note: (1 credit for each SERP)
BERT Analysis
Enter your keyword and click on the "Analyze Now" button.
The result will be saved in the folder.
In the picture below, I have numbered the steps.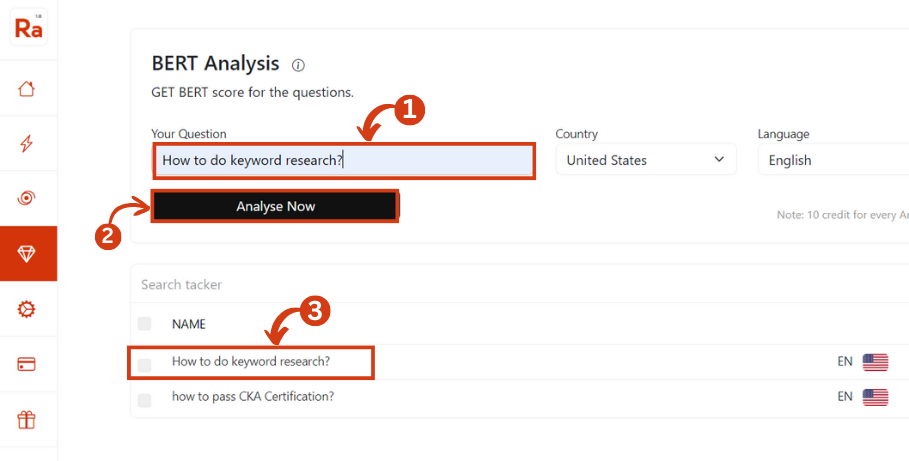 After that, the results will be shown to you. You can see in the image that I typed "how to do keyword research."
For this keyword, it shows the best scores and answers related to that keyword.
It also provides the latest updates.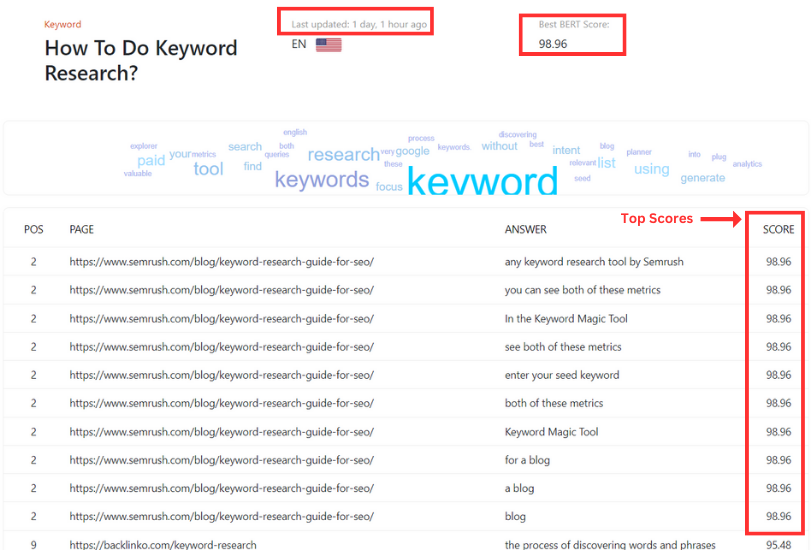 BERT analysis will help you identify long-tail keywords relevant to people's search queries and help you select effective and relevant keywords.
So, the main purpose of BERT analysis is,
Helps to improve content relevance
Helps to optimize long queries
Helps to improve user experience
Many tools don't provide this feature, but this one does.
Note: 10 credits for each analysis
Competitor Analysis
Enter the name and domain of your competitor, then click the "Add Competitor" button.
For example, I enter "devopscube" as the competitor's name and provide their domain for analysis.
In a matter of seconds, the analysis will be completed.
The result will be shown in the image below…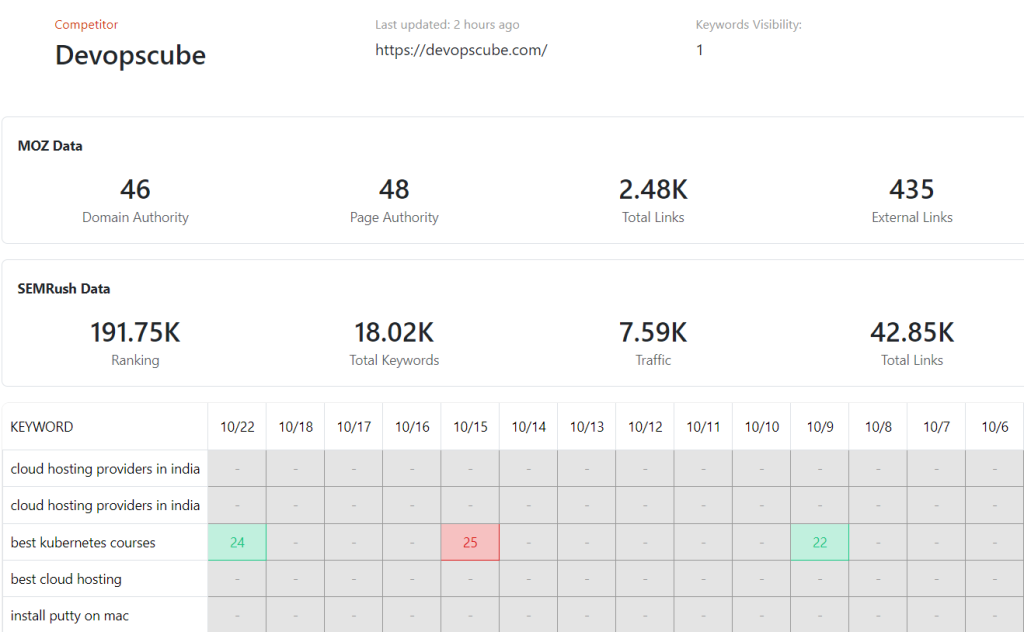 Through this analysis, you can discover the domain authority, page authority, total number of links, number of external links, rankings, keyword usage, traffic rate, and the total number of links on your competitor's page.
This feature was added recently, and it's a new addition to the RankAtom tool.
RankAtom Pros and Cons
I have organized all the pros and cons of RankAtom in the following table.
| | | |
| --- | --- | --- |
| Features | Pros | Cons |
| Keyword Research | ✅ | – |
| Site Audit | – | ❌ |
| Rank Tracker | ✅ | – |
| SERP Analyis | ✅ | – |
| Search Intent | ✅ | – |
| CPC | ✅ | – |
| Backlink Audit | – | ❌ |
| Domain Overview | – | ❌ |
| BERT analysis | ✅ | – |
| Keywords clusters | ✅ | – |
| Keyword Gap | – | ❌ |
| Keyword Rank Monitor | ✅ | – |
| Domain Authority | ✅ | – |
| Traffic Analytics | – | ❌ |
| Backlink gap analysis | – | ❌ |
| Organic Research | – | ❌ |
| Competitor Analysis | ✅ | – |
Pricing Comparison Of SEMrush, Ahrefs Vs RankAtom
| | | | |
| --- | --- | --- | --- |
| Plans | SEMrush | Ahrefs | RankAtom |
| Starter | Starts at $129/month | Starts at $99/month | Starts $39/month |
| Intermediate | Around $249/month | Around $199/month | Around $99/month |
| Premium | Starts at $499/month | Starts at $399/month | $199/month |
| Enterprise | Custom pricing | Starts at $999/month | Custom pricing |
| Free trial | With some limited features | $7 for 7-days trail | yes |
Based on this comparison, I have come to the conclusion that, in comparison to SEMrush and Ahrefs, RankAtom is more affordable.
It is a budget-friendly option compared to the other keyword research tools.
Currently, there is an offer available on AppSumo.
The starting price for RankAtom on AppSumo is $39, and it's a lifetime offer.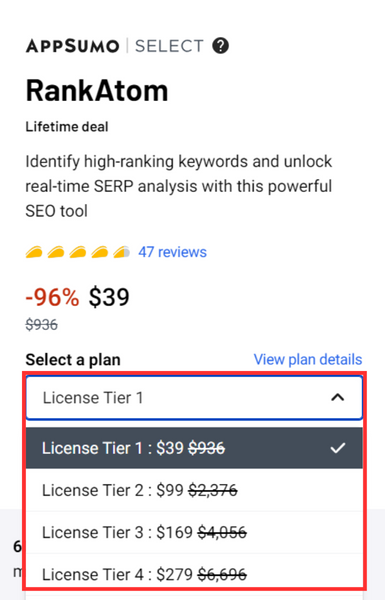 They also offer four pricing tiers, and for each tier, the amount will be different, but it's a lifetime offer. Pay once and use it for a lifetime.
Comparison Of RankAtom's Free & Paid Plans Features
I will show you the features of the free and paid plans.
| | | |
| --- | --- | --- |
| Feature | Paid Plan | Free plan |
| Keyword lists | ✅ | ✅ |
| Track Rankings | ✅ | ✅ |
| Competition Insights | ✅ | ✅ |
| No. Of Keywords Track | 100 | Unlimited |
| Updates | Daily | Hourly |
So, from the table, you understand that the free version has some limitations.
Pricing & Plans Of RankAtom
Now let's look at the monthly and annual plans & prices for the tool.
So, the first picture shows monthly plans and prices.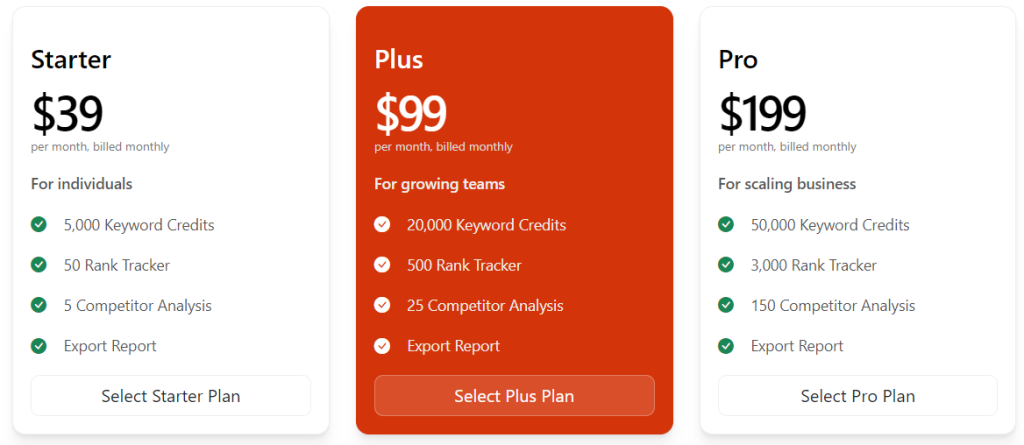 They divide the plan into three categories: Starter, Plus, and Pro. You can choose the plan based on your comfort and needs.
The next image shows the yearly plans and prices.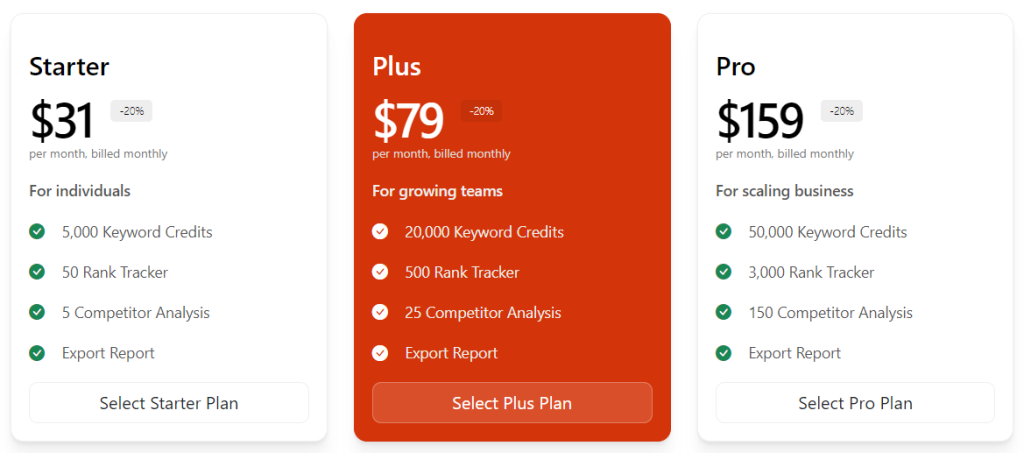 So, the annual plan also has separate categories, just like the monthly plans.
The Bottom Line: My Rankatom Review
In my opinion, this is one of the best tools for keyword research in terms of affordability. You don't have to shell out thousands of dollars to get started with Keyword research.
The tool offers great value for the money.
However, it does have some delays in some features. Compared to other tools like Semrush and Ahrefs, RankAtom falls behind.
But, It's a valuable tool for conducting keyword research, tracking rankings, competitor analysis, and performing BERT analysis.
For Keyword research, it's a worthwhile one. It gives keyword-related questions and keyword clustering, but keyword clustering is not accurate when compared to Semrush and Ahref
I have been using Rankstom for a while now. I will keep updating my learnings and experiences in this blog.
Conclusion
In conclusion, RankAtom provides the latest keywords and updates, and I am satisfied with the available features.
Now I'd like to hear from you.
Have you used Rankatom yet?
If so, what is your overall experience? Good? Bad? affordable? Somewhere in between?
Let me know your opinion in the comments section below.