Want to jump straight to the answer? The best cloud hosting in India are Amazon Web services, Digital Ocean, Cloudways, and Hostinger
Cloud computing is not a buzzword anymore. Small and medium businesses started adopting cloud-based technologies due to the flexibility offered by cloud platforms.
According to IDC, Indian cloud services market to reach $13.5 billion by 2026, growing at a CAGR of 24% for 2021-26
In this blog, I have covered the best cloud hosting service providers in India that startups and organizations can use for their cloud hosting needs. From hosting a single WordPress blog to hosting thousands of servers, these cloud service providers in India will fit your needs.
What are the Best Cloud Hosting Providers in India?
Here are my top pics when it comes to cloud providers in India.
Read on for detailed reviews of each cloud service so you can start comparing the platform features and pricing.
1. Cloudways
Cloudways is a managed cloud hosting solution with ultimate flexibility and scalability for businesses of all sizes. With Cloudways, you can deploy your website or application on a multi-cloud setup on top of the world's leading cloud infrastructure providers, such as Amazon Web Services, Google Cloud Platform, DigitalOcean, and Linode.
This enables you to choose India data centers from multiple cloud providers and manage everything from a single dashboard.
This also means the top cloud vendors' SLA applies to Cloudways. So you don't have to worry about server uptimes and reliability.
With Cloudways, you can avoid server management overhead as it takes care of underlying deployment and core services required for your applications.
It is designed to be developer-friendly, so you can get started with just a few clicks. So if you are a startup or a business that doesn't want to take the overhead of infrastructure management, Cloudways is a great option.
Cloudways Services
Following are the managed services offered by Cloudways.
Web hosting
Application hosting
E-commerce hosting
WordPress hosting
WooCommerce hosting
Magento hosting
Drupal hosting
Joomla Hosting
Cloudways Top Features
Cloudways is designed to make your cloud journey easy and smooth. If you want to know about Cloudways features from the review perspective, you can read the details in Cloudways review to know more.
Below are some of the top features that make Cloudways the best choice for your business.
User-friendly Platform: The Cloudways platform is designed to be easy to use, so you can get started with just a few clicks. The intuitive interface makes it simple to deploy and manage your applications.
One-click Installation: With Cloudways, you can deploy your website or application with just a few clicks. You don't need to focus on complex configurations or server management.
Easy Scalability: Cloudways makes it easy to scale your applications as your business grows. With just a few clicks, you can add more resources to your server and scale up your application.
High Performance: Cloudways provides high performance for your applications with its powerful servers and advanced caching technologies.
24/7 Support: Cloudways offers 24/7 support to help you with any issues you may have.
WordPress Autoscaling: Cloudways added WordPress autoscaling serving backed by Kubernetes Clusters.
1-Click Free SSL Installation
Bot Protection
Web Application Firewall (WAF) with Cloudflare
Advanced DDoS Protection with Cloudflare
2. Kinsta
Kinsta is a premium cloud hosting company backed by Google Cloud that offers its services to businesses of all sizes. Founded in 2013, Kinsta has since grown to become one of the most popular hosting providers in the world.
Kinsta's success is largely due to its focus on providing a high-quality, managed hosting experience. Kinsta's managed cloud hosting plans include features such as free SSL certificates, daily backups, and performance-optimized servers.
Kinsta Backed By Google Cloud
Kinsta is a bit different than your typical web host. They don't throw a bunch of servers online and hope for the best. Kinsta actually partners with Google to provide our infrastructure. You can read about Kinsta's Google Cloud customer story here.
By hosting on the Google Cloud Platform, Kista offers some amazing features that other hosts can't match. Here are just a few examples:
Google's global network: Kista utilizes Google's vast network infrastructure to deliver your site faster, making application access faster from anywhere in the world.
Best-in-class hardware: Kinsta runs on Google Compute Engine instances, which means you get all the benefits of Google's world-class infrastructure, including SSD storage, industry-leading security features, and more.
Automatic scalability: If your traffic spikes, Kinsta will automatically scale to meet the demand. This means you don't have to worry about your site going offline due to unexpected traffic surges.
Kinsta Key Features
Kinsta's platform is designed for speed from the ground up. We utilize the latest technologies, such as NGINX, PHP 7, and MariaDB to make sure your site is always fast and responsive.
Enterprise-level firewall and DDoS protection using Cloudflare.
Free SSL certificates: All Kinsta plans include free SSL certificates from Let's Encrypt. This helps to keep your site secure and also improves your search engine ranking.
Performance-optimized servers
Daily backups: Kinsta creates daily backups of your site so you can rest easy knowing that your data is always safe.
A user-friendly dashboard: A custom-built dashboard makes it easy to view your site's performance, manage backups, and One-click restores.
You can make use of Kinsta India CDN locations in Ahmedabad, Bhubaneswar, Hyderabad, Chennai, Bengaluru, Kanpur, Kolkata, Mumbai, Nagpur, New Delhi, and Patna.
3. Hostinger
Hostinger is one of the most popular cloud hosting services in India. It offers a variety of features and plans to suit your needs, whether you're a small business or a large enterprise. Hostinger Cloud Hosting is built on top of the OpenStack cloud platform. This means that your website or application will benefit from the same scalability and flexibility as the world's biggest websites and applications.
Hostinger Cloud Hosting is also one of the most affordable cloud hosting services around, with plans starting at just $4.95/month. Hostinger Cloud Hosting is a great choice for those who need a reliable and affordable cloud hosting solution.
Following are the key features of Hostinger cloud hosting.
Starts from just rupees 799/- per month
SSD Storage
Free SSL
Free Domain
Daily backups
Unlimited bandwidth
Multiple Data Centers
4. Amazon Web Services
When it comes to the public cloud, AWS tops in market share. It offers a plethora of services ranging from basic storage and virtual private servers to ML, AI, and IoT solutions. Currently, AWS is the public cloud market leader with a 33% market share.
Here is the data by Statista on worldwide leading cloud infrastructure services.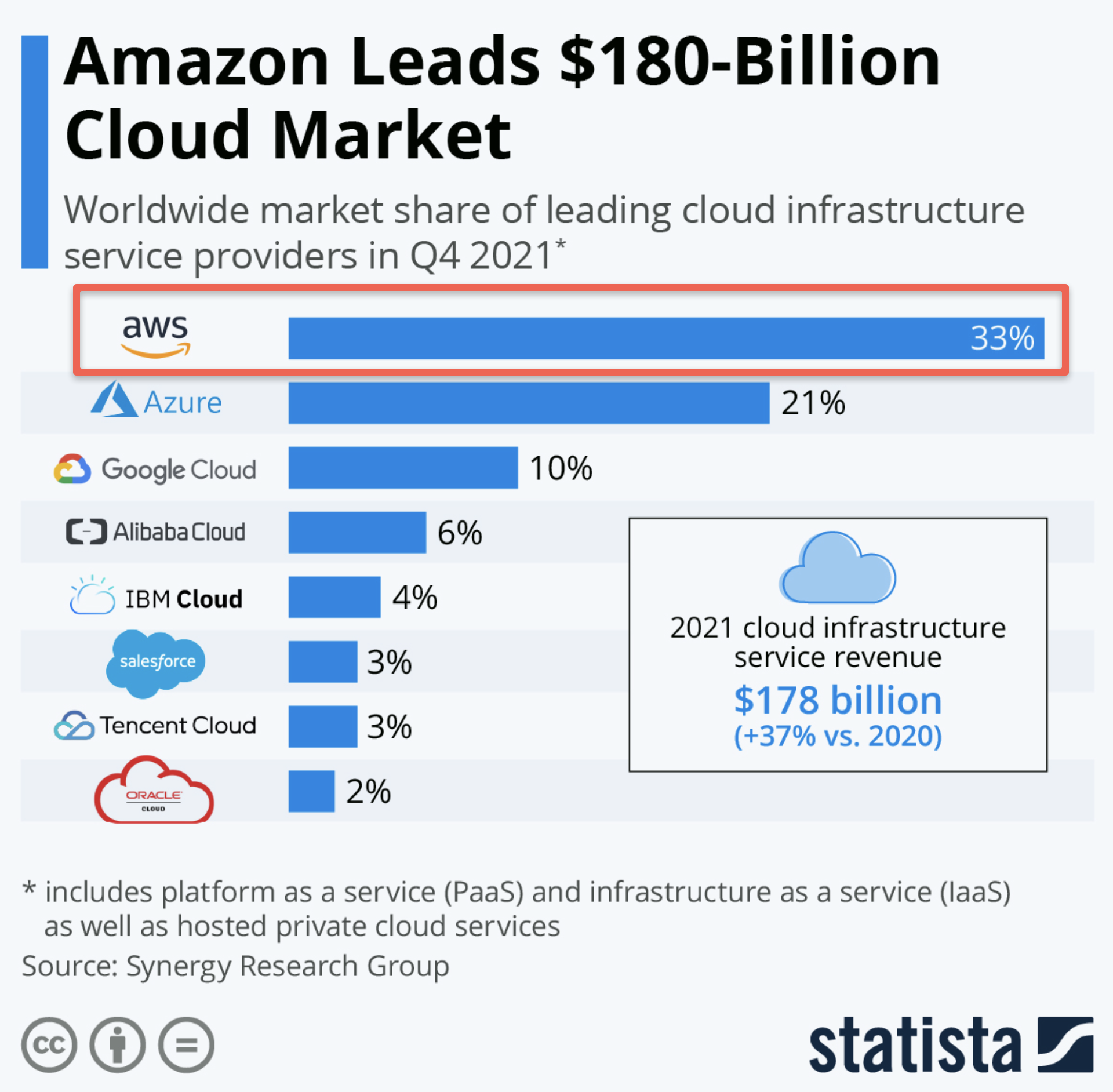 AWS provides a comprehensive set of tools and services that enable you to control your costs and improve your efficiencies when using the AWS cloud. These tools and services help you take advantage of the many benefits of the public cloud, including on-demand resources, scalability, and flexibility.
AWS Key Services
AWS Ec2: This service provides you with on-demand, scalable computing resources.
AWS EBS: This storage service provides you with block-level storage for use with your EC2 instances.
Amazon CloudFront: This content delivery network service speeds up the delivery of your content to users.
Amazon Route 53: This Domain Name System service routes internet traffic to your resources.
AWS CloudFormation: This service enables you to create and manage templates that define your AWS resources.
AWS Lambda: This computing service runs your code without provisioning or managing servers.
Amazon S3: This storage service offers a highly scalable, reliable, and low-cost data storage infrastructure.
Amazon EKS: Managed elastic Kubernetes service.
AWS Trusted Advisor: This service provides you with best practices for running your workloads on AWS. It helps you optimize performance, security, and availability.
AWS Cost Explorer: This tool helps you visualize, understand, and manage your AWS costs and usage. It provides you with visualizations of your costs, usage trends, and RI utilization.
Some key information
5. Google Cloud
Google Cloud offers users a scalable, reliable, and interactive environment for application development, big data processing, storage, and analytics.
Google Cloud Platform enables developers to build applications and store data on Google's infrastructure. The platform provides a variety of services including computing, storage, networking, and Big Data. It also offers a suite of tools for developers to use in order to create, test, and deploy their applications.
Google Cloud Platform is designed to be scalable so that it can handle large workloads. It is also reliable, with a 99.95% uptime guarantee. Additionally, the platform is interactive, allowing developers to easily collaborate on their projects.
Google Cloud was a little late to market as compared to AWS & Azure. However, Google Cloud adoption has grown in recent years, and several enterprises use Google Cloud to host their workloads.
Some of the key features of the Google Cloud Platform include:
Scalability: Google Cloud Platform is designed to be scalable so that it can handle large workloads.
Reliability: The platform is reliable, with a 99.95% uptime guarantee.
Interactivity: The platform is interactive, allowing developers to easily
Google Cloud Key Services
Compute Engine: Compute Engine is a cloud computing service that provides users with virtual machines for application development, big data processing, storage, and analytics.
App Engine: App Engine is a platform-as-a-service that allows developers to build and host web applications on Google's infrastructure.
Cloud Storage: Cloud Storage is a scalable, reliable, and affordable storage service for data and files.
BigQuery: BigQuery is a cloud-based big data analytics service that enables users to run SQL-like queries on large data sets.
Cloud SQL: Cloud SQL is a relational database service that runs on Google's infrastructure.
Cloud Datastore: Cloud Datastore is a NoSQL datastore that enables developers to store and query data in the cloud.
Cloud Bigtable: Cloud Bigtable is a scalable, high-performance NoSQL database service that runs on Google's infrastructure.
GKE: Managed Kubernetes service with autopilot features.
6. Microsoft Azure
Azure is a cloud computing platform developed by Microsoft over a worldwide network of Microsoft-managed data centers. It provides software as a service (SaaS), platform as a service (PaaS), and infrastructure as a service (IaaS) that support various programming languages, tools, and frameworks, including both Microsoft-specific and third-party software and systems. Azure offers both Windows- and Linux-based environments
Azure was announced in October 2008, and released on February 1, 2010, as Windows Azure, before being renamed to Microsoft Azure on March 25, 2014. As of January 2022, Azure has over 200 products and services.
Azure started with the focus of supporting its enterprise customers with cloud capabilities. It started off with more support towards Windows-based systems but later more Linux/opensource-based offerings made it attractive for a wide range of enterprise customers.
Microsoft Azure Key Services
Azure Virtual Machines: Azure Virtual Machines allow users to create a virtual machine in the cloud. VMs can be used for various purposes such as test and development, web and application servers, and databases.
Azure App Service: Azure App Service is a platform-as-a-service offering that enables users to create web apps and mobile backends and connect them to data stores.
Azure Cosmos DB: Azure Cosmos DB is a globally distributed database service that offers high performance, low latency, and tunable consistency.
Azure Functions: Azure Functions is a serverless compute service that enables users to run code on-demand in response to events.
Azure SQL Database: Azure SQL Database is a relational database-as-a-service that offers high performance and scalability.
Microsoft Azure Active Directory: Microsoft Azure Active Directory is a cloud-based identity and access management service.
Azure DevOps Services: Azure DevOps Services is a set of tools for software development teams to collaborate on code development, testing, and deployment.
Azure Monitor: Azure Monitor is a service that provides performance and diagnostic information about apps and services running in Azure.
Azure AKS: Managed Kubernetes service on Azure
7. Digital Ocean
Digital Ocean is a great cloud service for startups that require limited managed services. You can get started quickly with Digital Ocean, with its vast documentation covering many open-source implementations. You can use many pre-baked server images to host your applications—for example, WordPress, MySQL, Drupal, PHP, Python, etc.
Digital Ocean is a great choice for hosting your website or application. Their services are reliable and their prices are competitive. If you're looking for a cloud infrastructure provider, Digital Ocean is a great option.
Keys Offered by Digital Ocean are
Cloud VMs [Only Linux]
Managed Databases
Managed Kubernetes Clusters
Server Storage, Load Balancers, Floating IPs, Object Storage
8. Linode
Linode is a leading infrastructure-as-a-service provider that offers powerful, reliable, and affordable virtual private servers. Linode was founded in 2003 with the goal of making it easy for developers and businesses to deploy and manage their own infrastructure.
Today, Linode is one of the largest cloud providers in the world, powering over a million websites and applications.
Akamai Technologies acquired Linode in early 2021, positioning the company as a leading-edge provider of cloud services. Linode's intuitive control panel makes it easy to provision and manage your servers, while its robust API allows you to automate your workflow.

Whether you're just getting started with the cloud or you're a seasoned pro, Linode has the tools and resources you need to build, deploy, and scale your applications.
Linode Top Features
Linode offers a variety of features that can be tailored to fit your needs:
Deploy and manage virtual private servers
Scale your infrastructure on demand
Choose from 10 data center locations around the globe
Instant Provisioning: Linode's control panel makes it easy to deploy and manage your servers. You can create a new server in seconds, and all of your servers will be up and running in minutes.
Scalability: With Linode's simple scaling tools, you can easily add more resources to your server as your needs change.
High Availability: Linode's high availability features allow you to keep your applications up and running, even if one of your servers goes offline.
24/7 Support: Linode's world-class support team is available 24/7 to help you with any questions or issues you may have.
What are The Best Private Cloud Service providers in India?
Following are the other enterprise-level private cloud service providers who offer highly scalable data centers in India
9. IBM Bengaluru, India:
IBM services provide a handful of services based on IaaS , PaaS and SaaS. IBM's smart cloud helps developers and software vendors in India to excel in cloud computing. The smart cloud provides a secure and reliable platform as a service and infrastructure service.
IBM offerings:
IBM smart cloud entry
IBM smart Cloud enterprise
IBM smart business desktop
Smart cloud-managed backups
Lotus live portfolio
Cloud service provider framework
Major open-source-based offerings:
Smart cloud enterprise supports SUSE and RHEL flavors of Linux.
Open source hypervisor KVM.
10. Cisco Systems
Cisco has become one of the leading cloud providers in India. It has a comprehensive portfolio of technologies that can be applied by enterprises and service providers to build a cloud. It offers storage access, virtualization, orchestration, and self-service capabilities.
Cloud Services:
Collaboration cloud video Delivery
IaaS
VXI
Security as a service and more.
11. VMware
VMware offers everything an IT needs to build, operate, staff, and manage the cloud.
Services:
Business Critical Application Services
Data Center Virtualization Services
Desktop Virtualization Services
Virtualization Management Services
12. Sify
It offers IaaS, PaaS, and SaaS through its online portal. Open Source Offerings:
Ubuntu
Linux
Sify Mail, Sify forum (open source)
13. CtrlS
It offers both public and private cloud services. 6. ESDS Software Solution: eNLight cloud platform offers,
IaaS
Disaster recovery
Desktop-as-a-service
ERP hosting
Which Cloud Hosting Should I Choose in India?
In India, there are many providers that offer cloud hosting with data centers in India. As per Gartner Forecasts cloud end-user spending is to reach nearly $600 billion in 2023.
If you are an enterprise, small to medium business, or a startup based out of India with an Indian customer base, you can go to the top cloud players in the market who have Data Center regions in India.
The best part is, that they offer startup credits & discounts on their cloud platform apart from the free tier programs they offer. You can connect with the respective sales team to know if you are eligible for the startup cloud credits.
Choosing a reliable cloud hosting provider totally depends on your needs.
If you have a big application set up and you are looking for end-to-end managed solutions with less administrative overhead, you can choose AWS, Azure, or Google Cloud. These services offer a higher level of availability than any other cloud service.
If you have very few servers to host or looking for a minimal setup, you can opt for Digital Ocean or Linode. The server setup is fairly simple and server management is easy with high availability, security, and good storage options.
Cloud Hosting India FQAs
Which is the best cloud hosting in India?
There is no definitive answer to this question as the best cloud hosting provider for one person or business may not be the best for another. It really depends on your specific needs and requirements. For example, if you have a big budget and want full-fledged infrastructure services, you could opt for AWS, Google Cloud, or Azure. If you are a small startup with minimal server requirements, you could choose Digital Ocean, Linode, or Cloudways.
What is the cost of a cloud server in India?
The cost of a cloud server in India can range from around $5 per month to over $200 per month, depending on server capacity. Cloud servers are typically more expensive than traditional servers, but offer many benefits such as scalability, flexibility, and reliability. You should also consider storage costs along with server costs while you do the cloud cost planning.
Which company provides cloud services in India?
There are many companies that provide cloud services in India, but some of the most popular ones include Amazon Web Services (AWS), Microsoft Azure, Google Cloud Platform, Digital Ocean, and Linode
That's a Wrap.
There you have it – my list of the best cloud hosting providers in India this year. When you choose cloud hosting in India, you need to ensure that the cloud provider has data centers in India. If you have a business or customers in India, hosting applications in Indian data centers will reduce network latency to a certain extent.
It would be best if you decided on a cloud provider based on your requirements, budget, and the level of support needed.
Running an application is more than creating a virtual server and deploying the application. You need to set up automated backups, monitoring & alerting, monthly server patching, etc.
If you need any information on cloud hosting, please drop a comment below, and I will answer your queries.
If you are looking for cloud hosting for WordPress, check out my detailed review list of the best WordPress cloud hosting.