In this blog, I talk about the best WordPress cloud hosting that you can use to self-host WordPress websites and blogs.
This list of WordPress cloud hosting providers is decided based on the following factors.
Cloud hosting dashboard user experience.
Ease of Server management
Monitoring and alerting
Scalability.
Datacenter availability across the globe
Flexible and simple pricing schemes
Data backup and recovery options
Service availability of 99.9%
Security
Customer Support
Also, this list is primarily for small and medium businesses. So I am not considering enterprise cloud platforms like AWS, GCP, or Azure.
Important Note: I have seen many blogs which contains misleading list of cloud hosting service. They normally portray shared hosting services as cloud hosting. Do your due deligence before you select a cloud hosting provider. When it comes to cloud (IaaS), you should have 100% control over the server. Whereas Cloud (PaaS) services, you will have access only to deploy applications. Any other type of hosting is probably a shared service.
What is the Best WordPress Cloud Hosting?
If you don't have time to read the detailed cloud hosting list, here is an organized table that shows the best cloud hosting services for WordPress.
Cloud Hosting
Hourly/Monthly Starting Price
Virtual Server configuration
Cloudways (Managed Hosting)
$0.0139/hour
$10/month
RAM – 1GB
Processor – 1 Core
Storage – 25GB
Bandwidth – 1TB
Digital Ocean (Self Managed)
$0.010 /hour
$ 7 /mo
RAM – 1 GB
Processor – 1 Intel CPU
Storage – 25 GB NVMe SSDs
Bandwidth – 1000 GB transfer
Linode (Self Managed)
$0.0075/hour
$5/month
RAM – 1 GB
Processor – 1 Intel CPU
Storage – 25 GB
Bandwidth – 1 TB
Best Cloud Hosting Providers for WordPress
Let's dive right into the best cloud hosting for WordPress.
1. Cloudways
Cloudways is my number #1 choice as it offers WordPress deployment on five top cloud platforms from a single platform.
Cloudways is one of the most popular managed WordPress hosting providers and is known for its high-performance hosting services. The company offers a wide range of features such as unlimited WordPress installations, automatic updates, daily backups, and much more. Cloudways also has a strong customer support team that is available 24/7 to help you with any issues you may have.
Cloudways Key Features
Following are the key Cloudways features that complement WordPress hosting:
Free SSL Certificate
Unlimited WordPress Installations
Managed WordPress Updates
Daily Backups
24/7 Support
Cloudways is a managed cloud hosting platform that reduced administrative overhead by offering features like one-click installation, automatic updates, and daily backups. Cloudways support the following cloud platforms at the backend.
Amazon Web Services
Google Cloud Platform
DigitalOcean
Vultr
Linode
So when you host an application on Cloudways, it actually gets hosted on the best cloud infrastructure providers. This means Cloudways is just a wrapper platform that makes use of the world's learning cloud providers.
Cloudways Pricing
Cloudways offers a pay-as-you-go pricing model, which means you only have to pay for the resources you use. Prices start at $10/month. Also, you can make use of the Cloudways promo code to get a 30% discount for up to 6 months.
2. Digital Ocean
As you all know, there are many cloud providers in the market now. Among them Digital ocean, a cloud provider has the best solution for hosting your application with high speed and reliability in the cloud, starting from $5 per month. Digitalocean is used by many developers and small businesses to host their applications.
Note: You will get $100 free credits for 60 days
Here is what I like about the digital ocean.
Intuitive dashboard to manage cloud VPS (Droplets). Every option is pretty self-explanatory and easy for beginners to get started.
It offers all the basic essential services like disk backups, managed databases, networking, firewalls, and monitoring.
Moreover, Digitalocean has vast documentation on deploying applications on its Droplets. Be it any application configuration like Nginx, Apache, MySQL, etc, you will find a detailed article explaining the step-by-step process.
The following image shows the Digital Ocean Data Center regions


DigitalOcean Key Features
You can deploy servers in data centers available across different regions across the globe.
Servers with SSD for higher performance.
Promises 99.9% uptime with good SLA
Starts from $5 per month with 512 MB RAM, 20 GB SSD, and 1 Tb monthly data transfer. Additional data transfer costs 0.02 cents. Comparatively fast and cheap virtual servers on the cloud.
Re-sizing the instances based on your requirements. You can start from 512 MB RAM up to 16 GB RAM. 5. Easy to use control panel.
Pay per hour, billing model.
Good developer community base and 24 X 7 customer support.
Two-factor authentication for accounts. 9. Full root access to servers, unlike traditional hosting services.
You can check the customer reviews here Customer Reviews
Data Center Status: Digital Ocean Status Page
3. Linode
Next on our list is Linode. Overall services and server setup is similar to DigitalOcean. One interesting fact about Linode is, it was founded in 2003. The same year they launched the public cloud offering as well (A per their website).
Note: You will get $100 free credits for 60 days
Here is what I like about Linode.
1-12 GBps of outbound connection speed
Free DDoS Protection
Data Center Regions
Linode Key Features
User-Friendly Cloud Interface
1000+ Documentation Library
On-demand GPUs for parallel processing workloads such as machine learning, scientific computing, and video processing.
Intelligent Threat Blocking
Real-Time Network Protection
Data Center Status: Linode Status Page
4. Vultr
Third, on our list is Vultr. It offers similar services to Digitalocean and Linode. Vultr was founded in 2014.
Note: You will get $100 free Vultr credits
Vultr Key Features
Following are key Vultr features I like.
It offers Bare Metal & Dedicated Cloud Servers
17 Data Center Regions
Managed Kubernetes service is available in beta.
Offers both Linux and Windows servers
Data Center Status: Vultr Status page
Advantages of Hosting WordPress On Cloud
By hosting your WordPress website on cloud servers,
You have full control over your server. You will pay on an hourly basis and also you can cancel the subscription whenever you want, unlike the traditional hosting providers.
You can have full root access and full management of your application. You can shut down and start the servers whenever you want.
Hourly server pricing as opposed to traditional upfront monthly payments.
You can upgrade and downgrade the RAM and storage whenever needed.
You can spin up Linux bases servers in less than a minute and can have timely backups and snapshots of your data stored in the cloud.
You can scale your server vertically and horizontally.
You can make use of highly scalable and reliable cloud storage solutions.
Access to multiple data centers around the world to comply with business requirements.
Easy backups using server snapshots.
Easy server recovery from server snapshots
Cloud Hosting Considerations for WordPress
Most of the people doing research on WordPress cloud hosting solutions do not consider the entire pricing model of cloud servers.
When it comes to cloud pricing, it's not just the server cost. You need to consider the following.
Server costing
Storage cost (Boot Disk & extra storage disks)
Disk snapshot storage costs.
Network Costs (Bandwidth/transfer)
Country-Specific tax.
The following snapshot shows the billing of a small server I host on AWS. It shows the data transfer fee is more than the instance price of $5.54. Plus the $2.37 tax.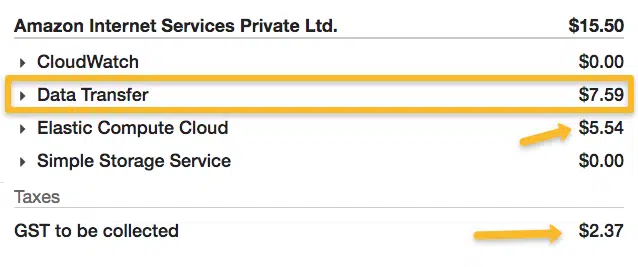 Most WordPress cloud hosting use cases might need extra storage and disk snapshot backups. It is very essential because you can restore the website or data if configurations or data get corrupted.
Also, you need to look at the following parameters.
Scalability: The ability to easily scale up or down as your website needs change.
Redundancy: Multiple servers to ensure uptime in case one server fails.
Security: Robust security features to protect your website from hackers.
Support: 24/7 customer support in case you need help managing your cloud environment.
How to choose the Best Cloud Hosting For WordPress?
Choosing the best WordPress cloud web host for your needs depends on several factors:
Your website's needs: If you have a high-traffic website that requires a lot of bandwidth, cloud web hosting may be a good option for you.
Your budget: Cloud web hosting is typically more expensive than traditional shared web hosting.
Your technical skills: Cloud web hosting environments can be complex to manage. Make sure you have the skills and resources necessary to manage a cloud environment before choosing this option.
WordPress Cloud Hosting FAQs
Now let's look at some of the frequently asked questions on WordPress cloud hosting.
How much traffic does the cloud server handle for WordPress?
The traffic handling capability of cloud servers depends on the optimizations you do on the server. Therefore, there is no standard number on the traffic stats. However, a test conducted on a $15 cloud server with WordPress installation showed that it could handle 10 million hits per day.
Can you scale WordPress on Cloud Hosting?
Yes. You can scale WordPress websites manually or automatically on cloud hosting. Cloud platforms like AWS and Google Cloud provide autoscaling. However, managed cloud hosting Platforms like Cloudways support only vertical scaling on demand.
Conclusion
You may be looking for the best WordPress cloud hosting solution or you might want to deploy a custom-developed PHP application on the cloud.
It is very important to choose the best cloud provider with good security and availability.
Also, look at the pricing model considering your outbound bandwidth usage. Most cloud hosting providers have their own billing calculator that can provide you with an estimate based on your requirements.
Do let me know your learnings and experiences in the comments section. I would like to hear them.
Also, if you want to use SSL with WordPress, check out the list of free SSL for WordPress.