In think you will agree with me when I say,
Using a free email service is the best way to start with list building instead of paying monthly for an email service provider.
I have been there looking for a free email service for my first WordPress blog. Let me make it easy for you with the 3 best services for newbie bloggers.
Free Email Marketing Services
There are several email marketing services out there.
Thus, choosing the right one out of the swarm of options can be difficult.
To make the task easy for you, we are taking a look at the three best free email services that we personally used. So, go through each service to make the right choice:
1. ConvertKit:
---
Official Website: www.convertkit.com [Start with Free 1000 Contacts]
---
ConvertKit is obviously the best email marketing service built for content creators, course creators, and bloggers.
If you are trying to build an audience for your future content, digital products, or courses, this is the best service to start with.
Convertkit offers up to 1000 contacts on your list for free. Moreover, it has a very user-friendly interface. Thus, you will have no trouble in using it.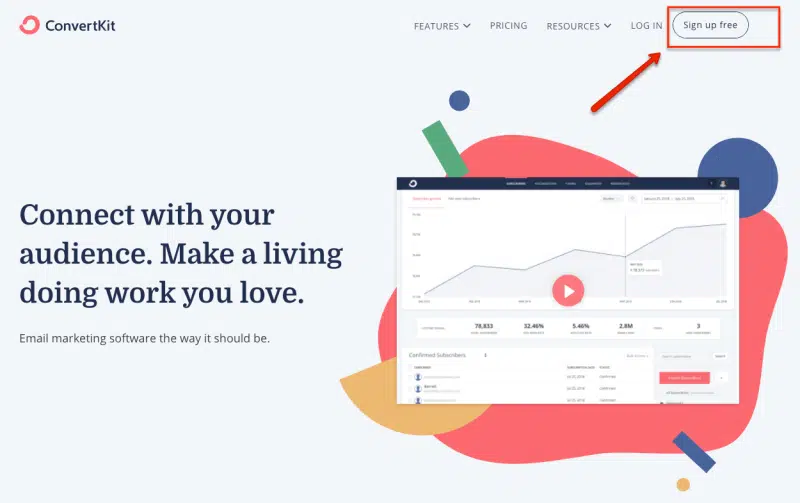 Also, it is very easy to create an account since you can do it by following simple steps. Furthermore, it allows you to create landing pages as well as opt-in forms without any hassle.
Features:
Well designed email subscription form and professional email templates.
Beautiful landing page templates.
List segments & automation
It allows you to completely automate the email marketing process.
You will also get pre-built templates that you can use to give an impressive design to your mail.
More importantly, it also easily integrates with most of the third-party applications
Pricing:
ConvertKit offers you a free as well as the Complete plan. With the Free plan, you will get responsive design for mobiles, unlimited traffic, and the ability to send email broadcasts amongst various features. Also, there is the Complete plan that you can avail at $25/ month with annual billing.
2. MailChimp:
---
Official Website: www.mailchimp.com [Start with Free 2000 Contacts]
---
MailChimp is undoubtedly one of the most effective as well as risk-free email marketing services. With the free account, you will be able to get up to 2000 subscribers for your email list.
An interesting fact about this service is the fact that it does not ask for any credit card credentials for the free plan. Plus, it also provides you with email marketing automation as well as responsive templates for designing emails.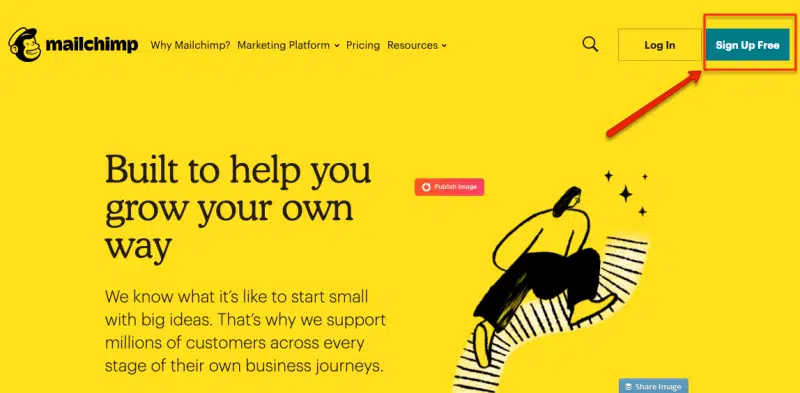 Features:
Mailchimp also allows you to segment your list upon different factors.
You also get a free website builder with this email marketing tool.
The inbuilt analytics, as well as A/B, split testing feature allows you to track the performance of your campaign.
It shows the daily graphs of subscribed users.
Pricing:
Apart from the free plan, it offers three other plans. While the Essentials plan costs $9.99/month, the Standard and Premium plan costs $14.99 and $299 respectively on per month basis.
3. Sendinblue
---
Official Website: www.sendinblue.com [Unlimited Contacts & 300 emails/day]
---
Another efficient email marketing tool, Sendinblue promises to bring efficiency to your email marketing efforts. One of the fastest-growing email marketing services, it offers unlimited subscribers with its free plan with a catch. You can only send 300 emails per day.
Not only email marketing, but Sendinblue also allows you SMS marketing services. Moreover, it enables you to send up to 300 emails on a regular basis. You will also get email automation features with this marketing tool with the premium plans.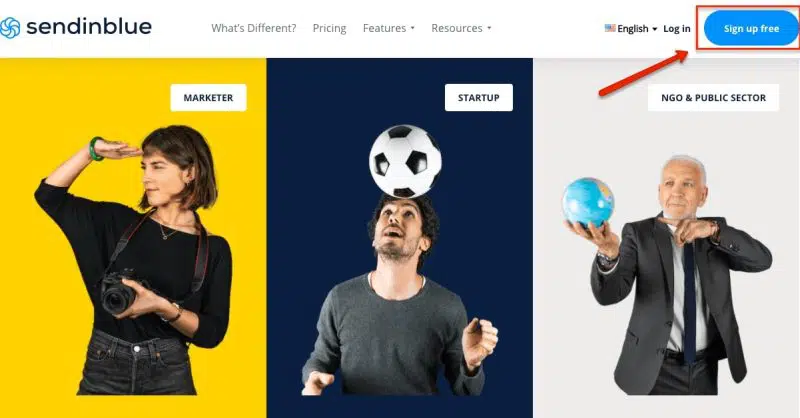 Features:
It also offers CRM tools along with automation features.
You also get a special heatmap reporting feature with Sendinblue.
Plus, it also helps in ad retargeting.
Pricing:
Other than the Free plan, there are Lite, Essential, Premium and Enterprise plans. The Lite plan costs $25/month whereas you can get Essential for $39/month and Premium for $66/month. However, the pricing of the Enterprise is available strictly on a quotation basis.
Benefits Of List building For Bloggers
Email marketing has a lot of benefits that a blogger can benefit from. Though several new marketing tools and services have become popular, none can match the efficiency of email marketing. How does it help? Let's see!
Email marketing offers a much higher return on investment in comparison to other marketing platforms. So, with a proper list, you can easily enhance your reach effectively. 
The subscribers on your email list are more likely to forward your email or share the content with others. 
Your email list is built when the readers enter their email list on the contact form in your website. Thus, it is safe to assume that they are doing so after researching through your blog and liking it. So, upon receiving your email they will be more accepting of your email. And they are more likely to take the necessary action as you dictate in the email.
While following and popularity on social media can vary with time and trends, your email list will be a permanent asset for your blog. 
Email generates three times more leads than social media platforms. 
Frequenty Asked Email Marketing Questions
Do bloggers need email marketing?

There has been a notion between bloggers that "content is king". If you have good content, you will not need anything to make your blog successful. While the quality of your content is important, it is not enough nowadays to ensure success for your blog. 

With proper email marketing, it will help in establishing a strong relationship between you and your readers. Furthermore, it also makes sure that you can reach the maximum number of people which is not possible otherwise.

More importantly, this process is completely cost-effective yet highly efficient when you have the right tool. In other words, when you do email marketing properly, it maximizes your reach and helps in the generation of larger revenue.
Which email marketing service is good for a new WordPress blog?

Convertkit is an excellent choice when it comes to WordPress blogs. It has all the features a blogger needs in terms of email marketing.
Is there any Free email marketing software for Bloggers?

Yes. You can start free with any of the following email marketing services.

Convertkit
Mailchimp
Sendinblue
Conclusion
We have seen the best free email marketing services to start with.
If you are serious about blogging, course creation and community building, convertkit is the right service to start with.
As the dynamics of marketing keeps on changing, email marketing has become a successful marketing tool.
It helps you to successfully engage with your target audience and generate leads as well as conversion.
It helps you to send personalized emails to prospective customers and cater to the interests of your audience. In order to be successful in email marketing, you need to take the aid of a proper email marketing service.
Despite the rise of different marketing strategies, email marketing is still the most efficient option available. It allows you to communicate with your audience personally and builds camaraderie with them.
Not only for bloggers, but small businesses can also use these services to save cost till they acquire more subscribers.
So which email marketing service are you going to start with?