Ideas can come to you at any place at any time.
While you can jot down your idea to remember them, but simply remembering the idea is not always enough. And that's why Mind Mapping is important.
Mind Mapping usually includes visualizing a concept in the form of diagrams and charts.
These diagrams certainly start with a focal point that is your main idea then you break it down into simpler and small concepts and connect them chronologically to the focal point.
These techniques help you to better understand and plan your course of action to reach your goals.
List of Best Mind Mapping Software
It can be often very exhausting to write down your whole string of thoughts into a piece of thought. Well, that is where the mind mapping software comes in. These software tools provide you with better flexibility and help you to build your concept map much more efficiently.
The following are the best mind mapping software that is exclusively created for creating mind maps.
1. MindMeister
MindMeister Website: www.mindmeister.com
It certainly has over 9 million users who are actively taking notes and planning for their project or business strategies. Of course, with this application, you will be able to create as well as share your mind maps with your team. Furthermore, you can also make your maps visually attractive by adding animations to it. It also allows you to collaborate and communicate with your team in a better way, through chats, reports, usage statistics, and a lot more.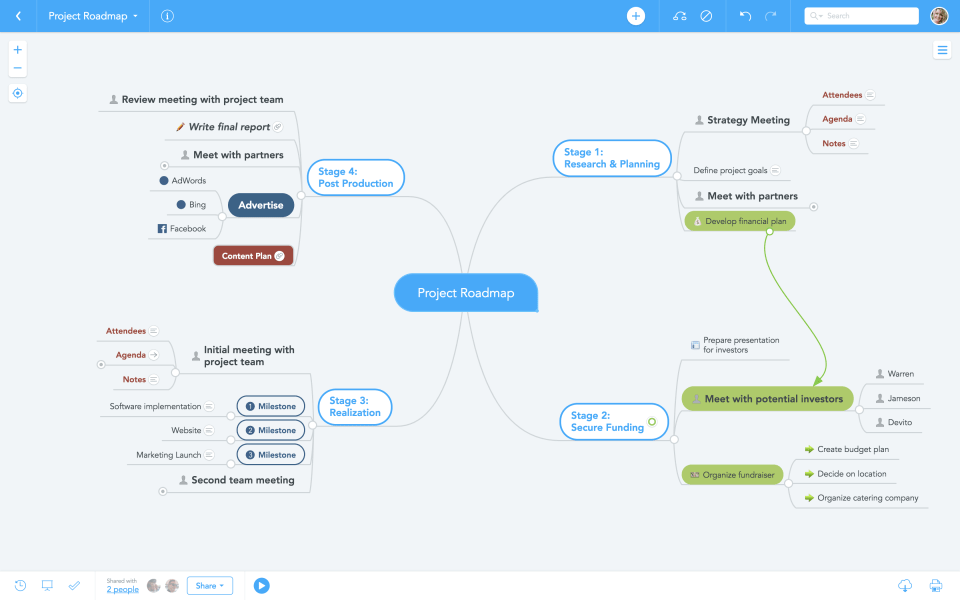 Features:
It is a completely cloud-based mind mapping software. You can use it any time anywhere.
Of course, you can easily attach documents or PDFs to send it to your team without any hassle.
It also allows you to create different tasks and add context to them.
You can also import your mind maps in 10 different formats with ease.
Plus, you can also see the contributions from different members with the help of the history view.
Different mind-mapping templates to choose from.
Pricing:
This software comes with a Basic plan which is completely free to use. Apart from that, there are Personal, Pro and Business Plans that you can avail at the expense of $2.49/ month, $4.19/month and $6.2/month respectively.
2. MindMaster
MindMaster Website: www.edrawsoft.com/mindmaster
Available for Mac OS as well as for Windows, MindMeister is obviously a very user-friendly and interactive mind mapping tool. It allows you to collaborate with your teams to brainstorm the ideas and design them into a fully-functioning mind map with ease. With more than 700 clip arts and extreme versatility of the program, this is certainly an excellent mind mapping tool.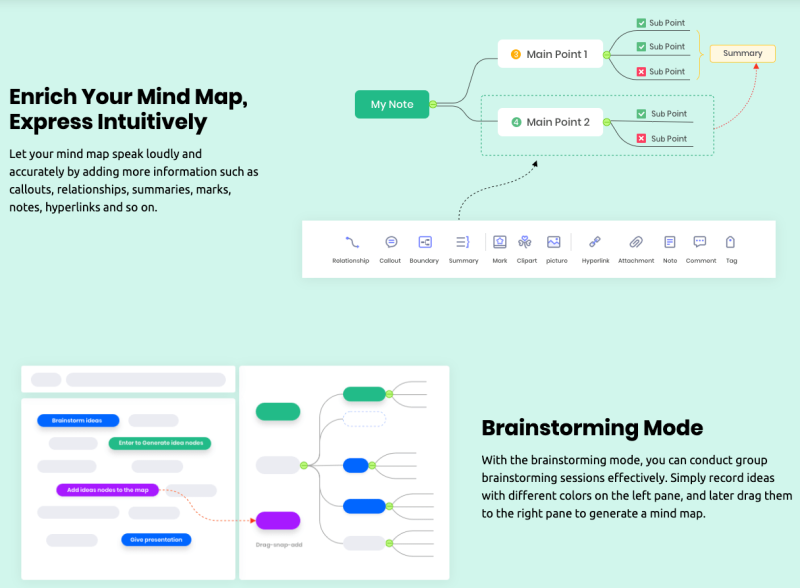 Features:
It offers the brainstorming mode. In this mode, you can conduct group brainstorming sessions with your team and record different concepts in the left pane with different color coding. Later, you can drag these color coding concepts to the right pane to generate a proper map.
It allows you to offer beautiful and aesthetic Powerpoint presentations of your mind map with a few simple clicks.
You can also choose a mind mapping template from a multitude of themes to present your map more beautifully.
It also provides many mind mapping examples to use it in your templates.
This software allows you to create mind maps in fishbone, tree, circle, bubble, and several other formats apart from the traditional radial format.
Pricing:
Mind Master is available as a freeware for Windows and Mac OS. Plus, you can also free download it for iOS and Android platforms. It offers you a 15 days trial period upon completion of which you need to opt for a plan.
There are Individual and Business subscription pricing plans that you can find on its website. For students, there is also a Student Plan that you can obtain for $79. Whether you want to write an essay, school assignments, or use it for another education purpose, it provides you with all the premium features with free upgrades for two years.
3. MindNode
MindNode Website: www.mindnode.com
Only available for Mac and iOS users, highly intuitive yet convenient software, it allows you to organize your complex concepts in the form of beautiful charts.
This software comes with easy editing tools apart from the drag and drop of the feature. As a result, you will easily connect your ideas from each other without any hassle.
Most importantly, you can easily convert your ideas into tasks. In this way, it helps you in goal setting and achieving them with ease.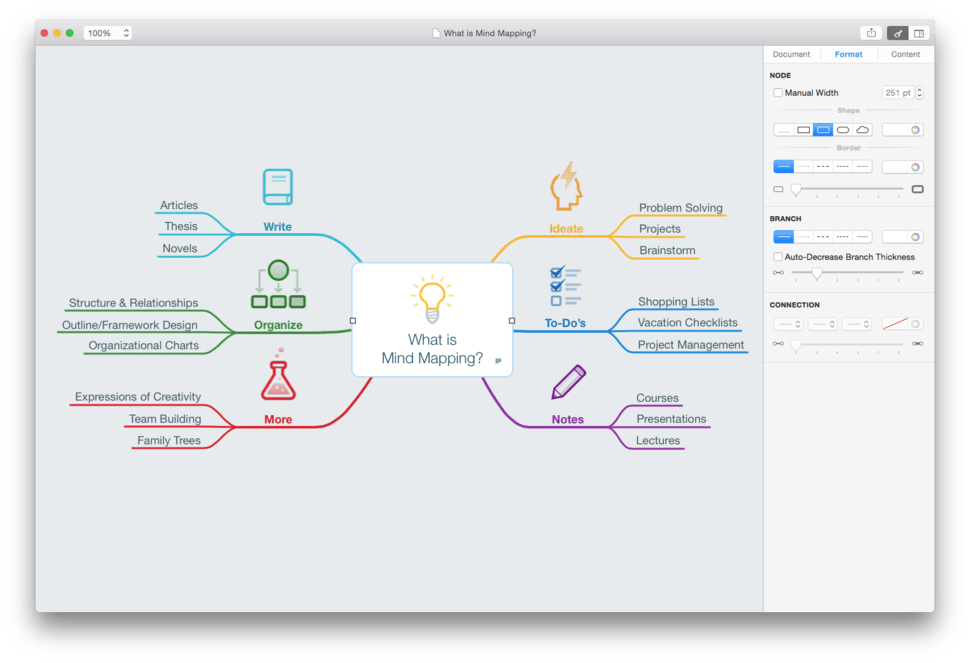 Features:
Offers focus mode for helping you to concentrate on certain points of the map.
Also, it allows you to choose from multiple themes as well as layouts.
The software also syncs with all your devices for better sharing of files.
Pricing:
It is available for free download for iOS as well as Mac. And it also offers a trial period of 14 days. However, the prices start from $2.49/ month or $19.99/year for both the platforms.
4. Ayoa
Ayoa Website: www.ayoa.com
Another excellent software, it allows you to collaborate with your teammates in real-time and organize your thoughts into the form of beautiful mind maps.
With different layouts and designs, Ayoga enables you to create exceptional radial maps and pie charts. You can also share your maps with others publicly with the help of this platform.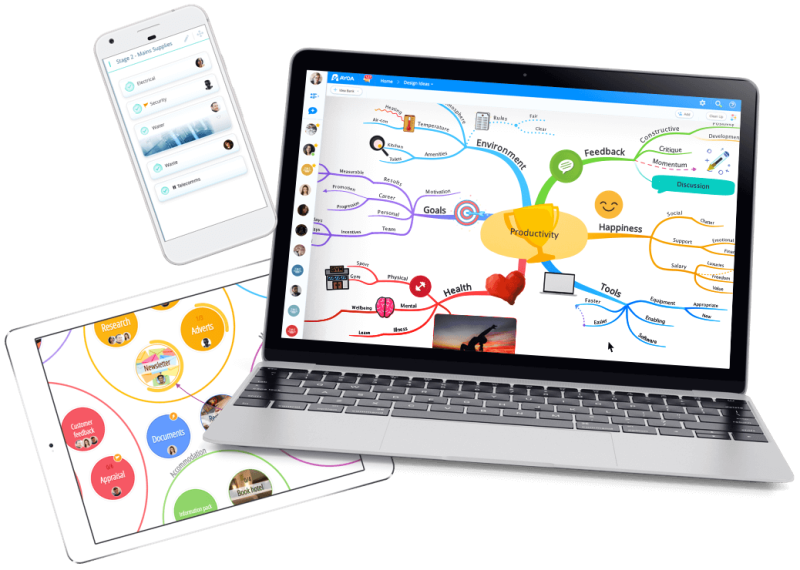 Features:
Ayoa offers you to create either speed mind maps for instantaneous needs. Otherwise, you can also opt for Organic Mind Maps for highly creative and detailed maps.
It also offers you visual management of tasks from an interactive dashboard.
Moreover, you also get detailed Gnatt charts for tracking the progress of different tasks.
Pricing:
The basic plan is obviously free to use. There is also the Advanced Plan which you can get for $10 per month for one year. For the Enterprise plan, you will need to ask for a quotation from the Ayoa team.
5. XMind
Xmind Website: www.xmind.com
Next, in our list is, of course, XMind. Offers brainstorming, collaboration and a plethora of other features, this software is available across multiple platforms. It has a very simple and intuitive UI and offers you complete efficiency. XMind is available in two versions; XMind 2020 and XMind 8 namely.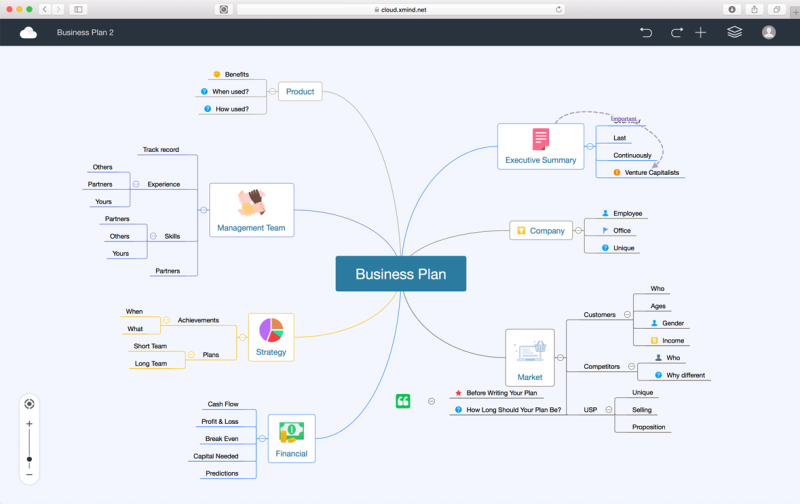 Features:
Offers aesthetic themes for designing your charts.
Both XMind 2020 and XMind 8 make use of the Snowbrush 2.0 engine.
It allows you to create PowerPoint presentations and also offers excellent clip arts apart from Gnatt charts.
Pricing:
XMind 2020 is available for $39.99 for 6 months whereas you can get it for $59.99 for a year. Also, there is a special offer for students, which allows them to get Xmind 2020 for 6 months at just $22.49 and for a year at just $34.99.

6. Coggle
Coggle Website: www.coggle.it
Coggle makes it easy to collaborate with your team in real-time and create beautiful mind maps highlighting your creative side. One of the most unique things about this software is the fact it allows you to make changes to your map. Nevertheless, you can revert back to any previous position by making a copy from that point.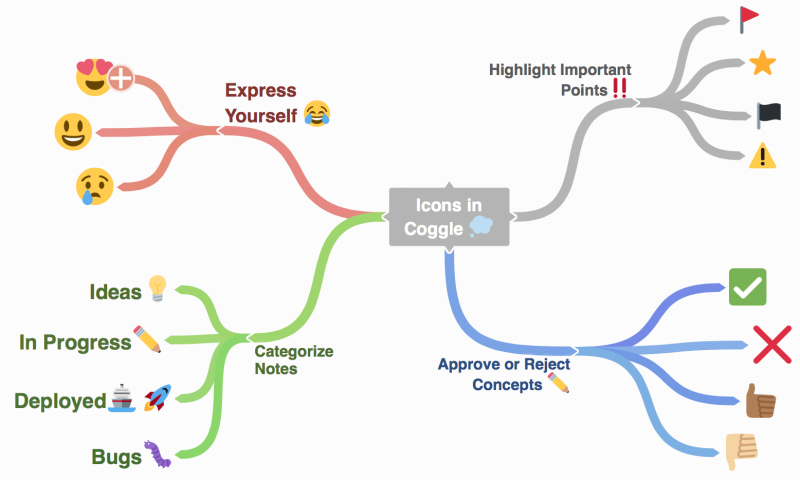 Features:
Allows you to add an unlimited number of images to the map.
You can create loops and branches at any point.
Offers multiple starting points.
It also makes it possible to add floating texts and images.
Pricing:
There is a free plan which as the name suggests is free to use. And the Awesome plan can be availed for $5/month. Also, there is an organisation plan that costs $8 per member every month.
7. SimpleMind
SimpleMind Website: www.simplemind.eu
SimpleMind is another excellent mind mapping software which is available for Mac, Windows, iOS, Android, and web platforms. This software offers an infinite canvas for drawing and designing your mind maps. One of the best things about this software is the fact that it allows you to create as many designs and shapes to your maps as you please.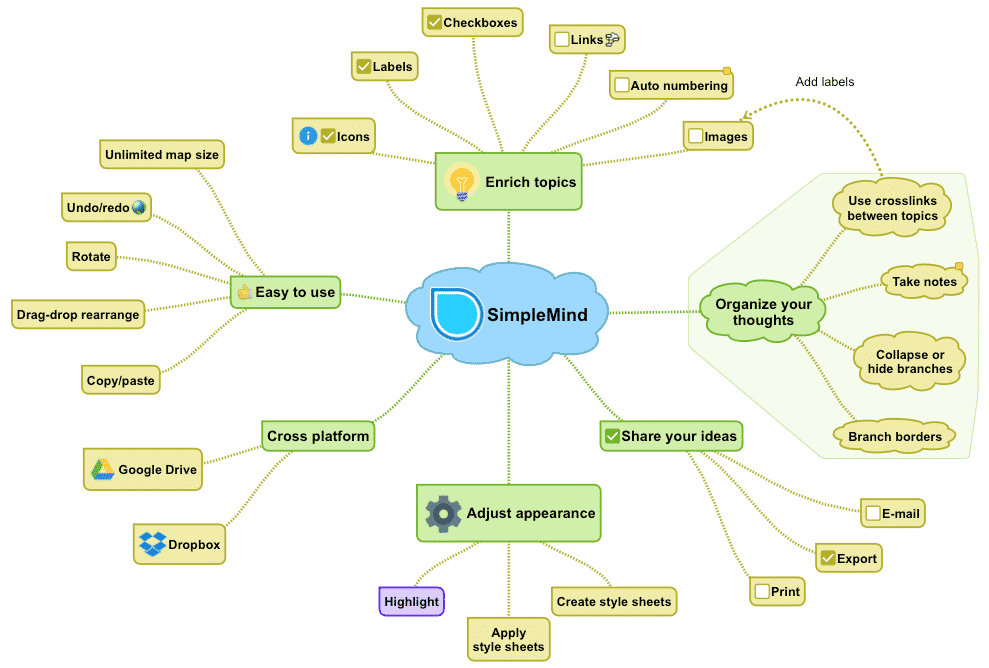 Features:
With this software, you can add attachments, notes and links to your mind map.
Moreover, you will also be able to administrate your organisation or collaborate with your team from this software.
It also allows you to create storyboards as well as maps instantaneously.
Pricing:
It offers a free plan and also there is a 30 day free trial for the pro version of the plan. The pricing for the pro plan starts from €24.99 for windows and Mac. On the other hand, the apps for the iOS and Android version are available for $6.99.
Frequently Asked Mind Map Questions
What is a mind map?

A mind map is a visual representation of ideas or concepts that are interconnected in chronological patterns with the help of curves or lines.
which is the best mind mapping software?

Each mind mapping software has its own features and appearance. Based on your needs and budget, you can select one tool. Also, you can start free with any of the seven tools listed here.
How mind mapping works?

Mind mapping works out by figuring out a central idea or a focal point then by branching out several sub-ideas or similar ideas and connecting them to the central focal point through lines or curves.
How to make a mind map?

Take a blank canvas and add your central concept or node to it. Start brainstorming different ideas revolving around the central node and add them to the canvas. Connect the auxiliary concepts to the central node as it seems fit to you.
How does mind map help in ideation?

Mind maps have a clear and simple structure that helps you to focus your thoughts and increase your problem-solving skills. Thus, it also helps in ideation in the process.
How Mind map improve your learning?

Mind map does help in education and learning. You can easily summarise a book in the form of a mind map. The simple structure and easy to understand representation help you to remember things in a much better way which in turn accelerates the process of learning.
Conclusion
Though relatively new, mind mapping is a highly advanced yet very convenient technique to achieve efficiency in multiple fields. So, choose the best mind mapping software and start using this technique to be successful in your endeavors.