Making money online is a dream that most of the people see these days. Be it through writing, blogging or any other freelancing work, making money online is possible and it is not just an impractical dream. With the development of internet facilities, online courses have gained tremendous importance among the students across the globe. Still making money by hosting online courses is a challenge unless you choose the right platform to host your course. And that is what we will be talking about throughout our Teachable review. Yes, you are going to get all the necessary information that you need to know related to this online hosting course.
Teachable Review
The premise of Teachable is "Everything is Teachable" and they ensure that you will be able to provide a world-class learning experience through their platform. They have the best pricing structure; more than 4 million students and 20,000 online courses. Above all, they provide the instructors with a chance to earn millions in a year. Thus, is it wrong to call it the best portal to host and sell your online courses? Is there any requirement for any Teachable review? Perhaps not! Yet there are several things left to say which will justify the claim that they are indeed the best. So, why wait any further? Let's get on with our Teachable review.
Teachable Coupon
Teachable offers discounts during specific times in a year such as Black Friday, Cyber Monday etc.
Why use Teachable?
Well, it is a vital question that will pop up in the mind of every reader while reading this Teachable review. But to understand the answer, you will first need to have a look at the features of this amazing platform.
It is very easy to set up your online course:
The most important part of selling an online course is to design its appearance perfectly. The first impression of a person is always created by the look of a thing, so if your course is highly presentable then it will obviously garner attraction from the students. But the best part of designing your online course in Teachable is that they have a highly efficient drag and drop interface. All you need to do is to drag and drop images or files to design your course without any hassle.
Allows you to upload all sorts of files:
This is something that is unique to Teachable. In most of the other portals, it is not possible to upload all sorts of files other than PDF and videos to teach your students. But that is not a problem in case of Teachable. It allows you to upload all kinds of files directly to its online database. Furthermore, Teachable also allows you to pull your documents from cloud sources like Google Drive or Dropbox.
Extraordinary Marketing Features:
If you are selling anything online be it an online course, marketing is a very important aspect of the process. And Teachable provides you with incredible marketing features that you can dream of. It is really unheard of platforms providing marketing features for online courses but Teachable is way ahead than others. It provides you with email marketing, affiliate marketing, discount coupons, promotions and several other things to market your online course.
Incredible Integrations:
Well, we have already mentioned about the marketing features in our Teachable review. But do you know that it offers some other exciting integration too? Yes, Teachable allows you to integrate your course with tools like MailChimp, Google Analytics and much more so that you can promote your course in whatever way you want.
Pricing:
The best part about Teachable that we are going to include in our Teachable review is its pricing structure. You do not need to pay anything separately for hosting your course since everything is included in the packages. There are three packages available in Teachable and each of them has their fair share of exciting features. Most importantly, the packages are really affordable and they have been designed in such a way that they become budget friendly for all instructors.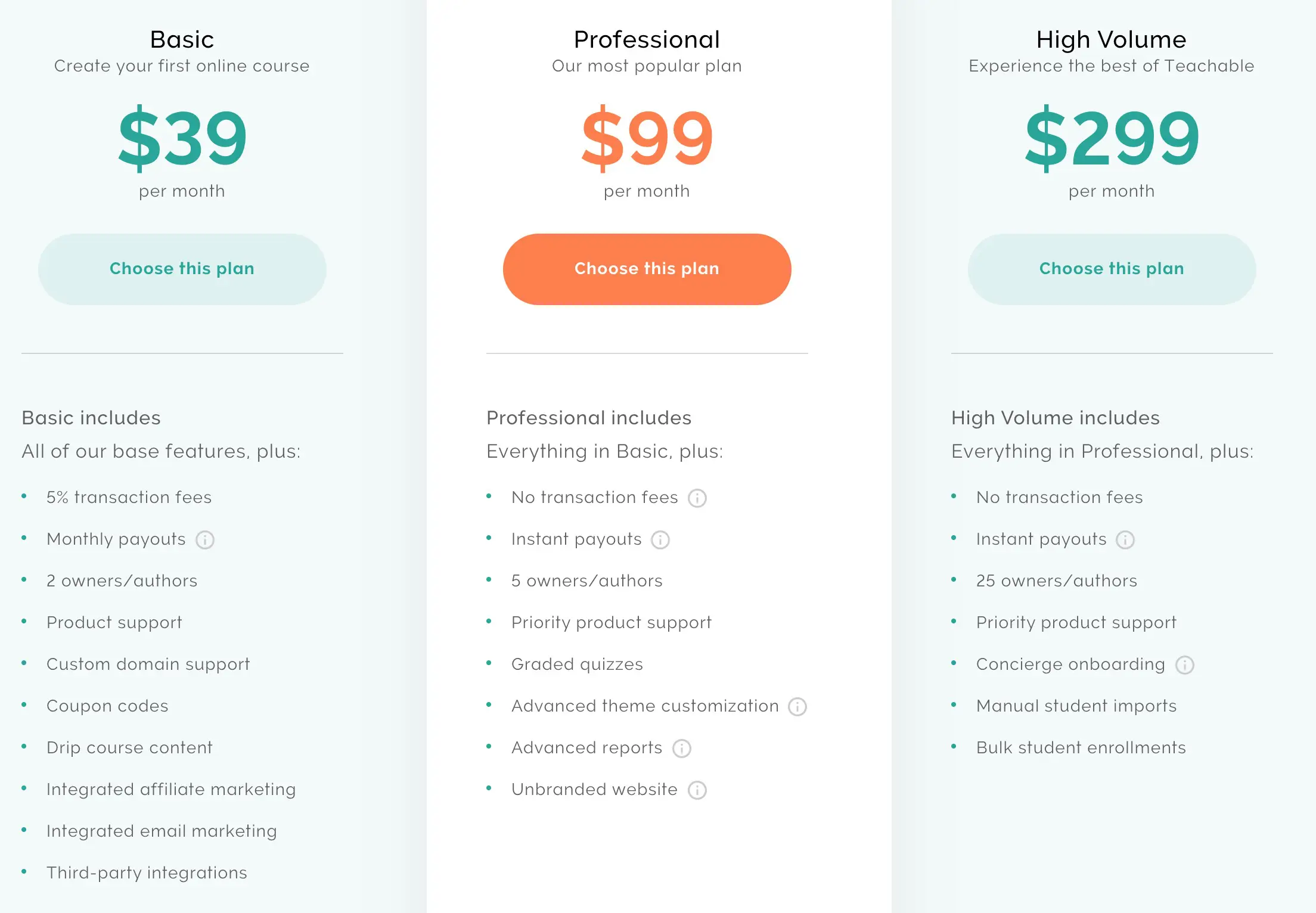 Customer Support:
Teachable always prioritize their customers; thus their packages always come with extraordinary customer support. Firstly, they have an enlightening knowledge base on their website which is capable of providing you with the solution to all your problems. Plus, there are Live Chat Support and Ticketing System which you will be able to use to solve all your problems. Thus, if you face any trouble you will always get the solution you require from Teachable and that is something that we can guarantee in our Teachable review.
Final Words
After going through our Teachable review; we hope that you do not have any doubt about Teachable being the best platform for hosting online courses. Visit their site and have a look at the platform. Set up your course and make money online in the way we showed you in this Teachable review.