If you are looking for Linux Foundation Coupons to save on CKA, CKAD, CKS Certification, Courses, Skillcreds, IT Professional Programs, these promo codes are are for you.
We will look at the discounts and savings tips for each category. We will also look at all the information about the offering.
Note: If you are planning to get more than one offering, please go through all the saving tips given below. Our idea is to guide you to the best discount by choosing an option that serves your purpose with maximum savings.
First, let's look at exclusive and official coupons provided by the Linux Foundation to maximize your savings.
Linux Foundation Coupon for December 2023
Every month Linux Foundation publishes coupon codes for certifications, courses, and IT professional programs. Sometimes there will be exclusive promotions for instructor-led training as well.
There are many options provided by the Linux foundation to maximize your savings as per your certification and learning requirements. Let's take a look at all the options.
50% OFF Linux Foundation Site Wide Certification Sale
If you are looking for a specific certification discount you can make use of the exclusive coupon code to save a flat 50% discount on all the Linux Foundation Certifications.
Certification Coupon: Use code CYBER23COM at Checkout
You can check all the certifications from the certification catalog
20% OFF Linux Foundation Exclusive Discount
Get a 20% exclusive discount on all the Linux foundation certifications, skillcreds, IT professional programs, instructor led programs etc.
Coupon: Use code SCRIPT20 at Checkout
25% OFF CKA, CKAD, CKS, KCNA and KCSA
There are five Kubernetes based certification on the Linux Foundation. You can get exclusive 25% discount on all these certifications using out exclusive coupon code.
Coupon: Use code SCRIPT20 at Checkout
CKA, CKAD, CKS Bundle Discount ($306 Savings)
You can get $306 Savings with CKA, CKAD, CKS Bundle.
Coupon: Use code DCUBE20 at Checkout
CKA + CKS Bundle Discount ($185 Savings)
Get exclusive $185 discount on CKA + CKS certification bundle.
Coupon: Use code DCUBE20 at Checkout
$1000 Savings on the IT Professional Program
IT Professional Program offers weekly learning schedules for absolute beginners to master most in-demand cloud and other cloud-native technologies. Currently, there are four IT Professional Programs offered by the Linux Foundation. The best part is, that every professional program comes with a free Certification.
All 4 programs come with bundle savings of $1,000. You will get an additional 20% discount using the discount coupon. During official promotions, you could get up to 40% extra discount.
25% OFF Skillcred Coupon
There are six Skillcreds offered by the Linux Foundation. These are credentials primarily focused on DevOps Engineers to showcase their skills in foundational technologies like Git, YAML, JSON, Bash, VIM, and Helm.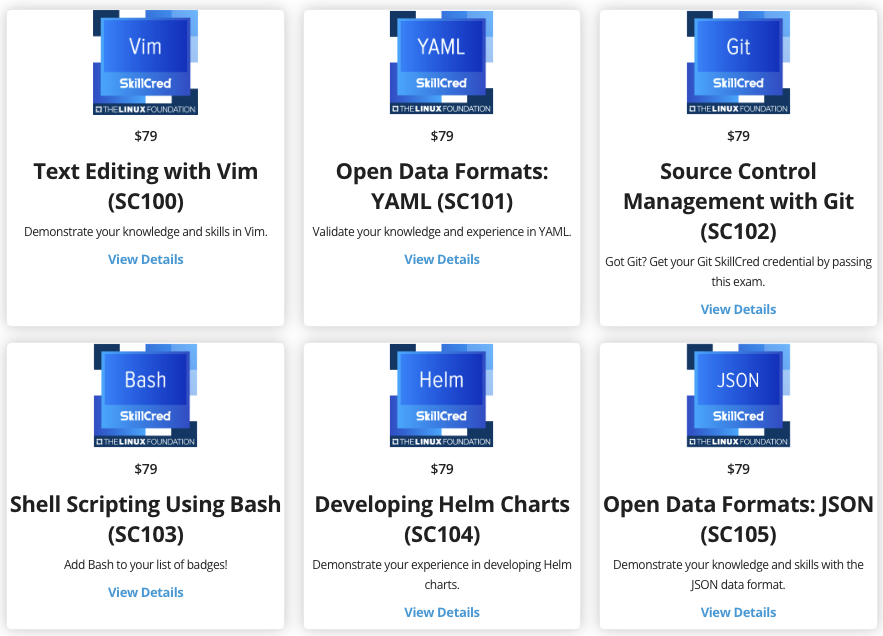 You can get up to 25% discount on Skillcred.
Skillcred Coupon: Use code DCUBE20 at Checkout
10% Off Thrive One Memberships
If you are using Linux foundation courses for learning and certifications, Thrive One membership offers great savings. With this membership, you will get access to all the e-learning catalog courses. Which is usually priced at $250 per course. Also, you will get complimentary certification vouchers based on the membership plan.
All the membership plans offer a free 10-day trial. If you opt for yearly plans, you can get a 10% discount using the
Thriveone Coupon: Use code THRIVEONE10 at Checkout
50% CKA, CKAD, and Other Certifications and Training Using Tux Rewards
Once you spend $500 with the Linux Foundation, you can get a 50% discount on certifications like CKA, CKAD, CKS, etc. Every dollar you spend on the Linux Foundation is equal to 1 point. When you earn 500 points, you are eligible for a 50% discount coupon.
Note: The offer is applicable only if you have existing points
In my personal training account, I have 1210 points, which means I am eligible for a 50% discount on Certification.
You can find the points in your Linux Foundation profile as shown below.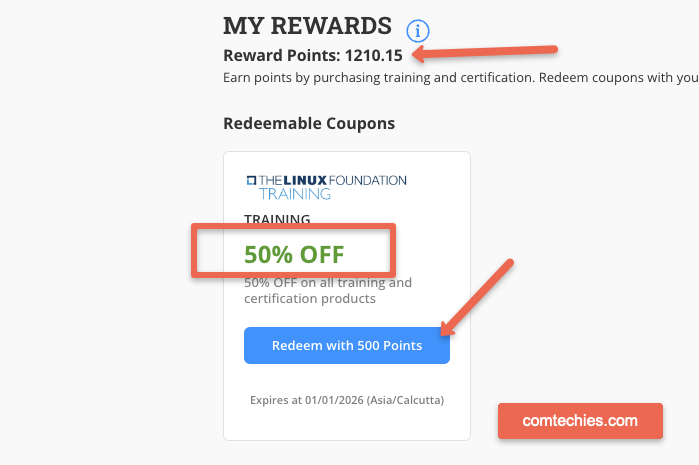 Exclusive Discounts for Academia & Government Personnel
Linux Foundation offers special discounts through
If you are a student or faculty in an accredited institution, the Linux Foundation offers instructor-led training and LFCS exams through the Academic Outreach Program.
If you are part of RGS, you will receive discount vouchers for training and certifications.
40% Site Wide Discount [Expired]
The current site-wide discount offers a 40% flat discount on all the Linux Foundation offerings like Certifications, Skillcreds, Training, and IT professional programs
Coupon: Use code SCARYTECHIES at Checkout
For maximum savings, you can purchase the certifications bundles. You will get up to 55% discount when you choose bundle purchases.
You can use this coupon for CKS, CKAD, CKS, KCNA, and other key certifications.
65% OFF Linux Foundation Cyber Monday Sale [Expired]
Get upto 65% discount as part of the Linux Foundation Cyber Monday sale. This is the biggest sale of of this year. You will also get a free Gift with every purchase.
Next Cyber Monday sale is on 2024 Novemeber.
Coupon: use code CYBER23COM at checkout
Best Deal Pick: The best savings is when you get the CKA + CKAD + CKS bundle with 65% savings.
Following are the other bundle discounts that you could use to save up to 65%
65% Off IT Professional Programs w/ Code CYBER23ITPP
65% Off Power Bundles w/ Code CYBER23PB
65% Off Bundles w/ Code CYBER23BUN
50% Off SkillCreds w/ Code CYBER23SKILLCRED
50% Off Instructor-Led Courses w/ Code CYBER23ILT
10% OFF All Access Subscriptions [Early Cyber Monday Offer]
Linux Foundation Cyber Monday deals are early this year. You can get 10% discount on All access thrive one membership for a limited time. Along with the discount, you can get 2 certification exam vouchers (valued at up to $790) using the Thrive One premium subscription.
Coupon: Use code CYBERTHRIVE23 at checkout
About The Linux Foundation
The Linux Foundation is a non-profit organization that primarily supports open-source Linux development and other open-source projects. There are 850+ open-source projects under the Linux Foundation. Also, 17k+ organizations are contributing to the Linux Foundations.
One of the key contributions of the Linux Foundation to the tech community is Linux Foundation training and certification programs. There are 26 certifications offered by the Linux Foundation. These are sought-after certifications in the IT industry.
Linux Foundation primarily has the following offerings
Certifications
Courses
Skillcreds
Instructor-Led Training
IT Professional Programs
Thrive One Memberships
Corporate Solutions.
Linux Foundation Latest Updates
In this section, we will look a the latest Linux Foundation updates on certification, training, and exclusive promotions.
In the latest Kubecon event, the Linux Foundation has announced the following three certifications.
Conclusion
I've been paying for Linux Foundation certification since 2019 and keep doing new certifications and renewing the existing ones. So I keep track of Linux Foundation voucher codes that are published officially in emails, Reddit, and other social media channels.
I pretty much covered all the discounts offered by the Linux Foundation for this month. I keep updating the guide once new coupons are available.
If you would like to know more details about Linux Foundation coupons, drop a comment below.