Hello Techies, learning is part of our day-to-day life. We have to learn continuously to keep ourselves updated with the latest technologies. With some extra skills sets, you will be even able to earn a passive income as a techie.
Linkedin learning is one of the best choices for professional learning. Before I share this Linkedin learning free subscription details, let me give you a brief about Linkedin learning plans and packages.
There are only a few online learning platforms that have actually managed to impress me. Because I have been using these platforms(Udemy, Pluralsight, Treehouse, and Linkedin learning.) for some time now.
Linkedin learning is becoming very good at online learning courses. In fact, one of the biggest online Platforms, Lynda.com is part of Linkedin learning. You can get all the Lynda.com courses on a Linkedin learning subscription.
In this blog, I'm sharing a special Linkedin learning discount. Before that let's discuss some of the Linkedin Learning features that are worth this free subscription.
Exclusive Linkedin Learning Free Deal
Step 1: Head Over to Linked Learning Page
Step 1: Signup for Visual Studio essentials from here -> Visual Studio Essentials
Step 2: Once you have verified the Visual Studio account, you will be taken to the default benefits page. There you can find an offer to get three months free subscriptions to Linkedin learning as shown in the image below.
Note: You can also get Pluralsight Offer from the benefits page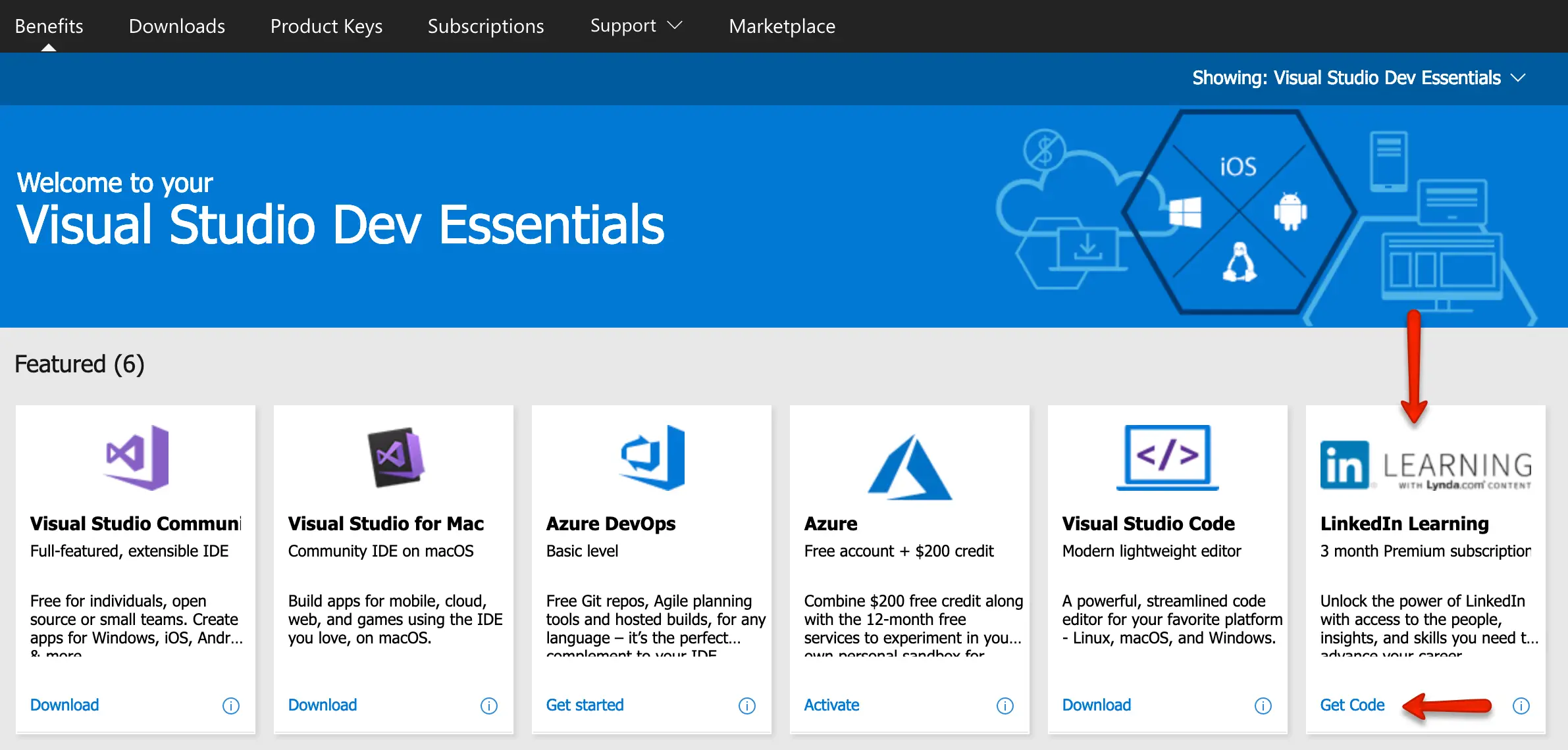 Step 3: Click "Get Code" to get the "Activate" button. Once you click activate, it will take you to the Linkedin learning free three months subscription page as shown below.

Linkedin Learning Features
Linkedin Learning offers courses in the following three industry verticals.
Business
Technology
Creative
It has two pricing models
Personal
Team Licences
You will get access to the entire course library. There is no limit to your learning. Also, all the courses are taught by passionate industry experts.
Moreover, you can access the courses from your laptop and mobile devices.

So, what are you waiting for? Claim your free subscription and get access to all the premium content.